Vanuatu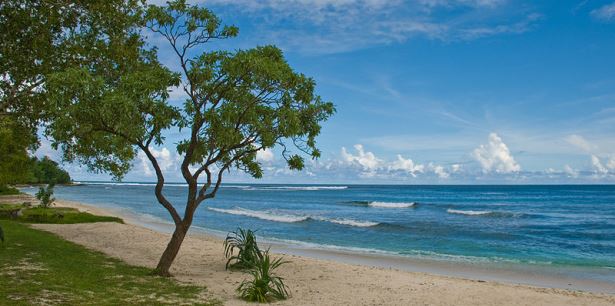 Where to Stay in Vanuatu
If you are looking for a little piece South Pacific paradise, almost entirely untouched by main-stream tourism, the Republic of Vanuatu is the place for you. On arrival at Port Vila stay the first few nights on Efate Island before visiting one of the hotels or resorts on Espiritu Santo Island or Tanna Island.
Imagine a deserted stretch of beach, as seen in several series of Survivor which were films on Efate Island, and you get the picture. This island nation is located in the South Pacific, east of Australia and New Zealand, and lucky Aussies and Kiwis can get there in less than 3 hours, depending on where you are flying from. The islands are largely volcanic and here you can find one of the world's most accessible active volcanoes on the island of Tanna, which can be visited by 4X4 vehicles when it is not too lively! Vanuatu is an absolute Mecca for divers, and offers some of the world's most impressive dive sites, including the SS "President Coolidge", the largest wreck dive in the world.
Vanuatu Accommodation
Accommodation in Vanuatu is as varied as the islands themselves. You can choose from the best resorts in Vanuatu with all the bells and whistles, or rest your tired body in a clean and comfortable cheap Vanuatu lodge or motel. If you are travelling with a family, there are also some hotels in Vanuatu which have apartment-style accommodation with a kitchen – so useful for preparing children's meals; Nasama Resort and Lagoon Beach Resort in Port Vila are two examples and both are highly recommended for family holidays.
Luxury golfing and beach accommodation in Vanuatu
Perhaps you would like to enjoy a round of golf while your family laze on the beach? There are five resorts in Vanuatu close to the Port Vila Country Club on Efate Island, which has a championship golf course. The Warwick Le Lagon Resort and Spa is a wonderful destination to combine a love of golf with a love of luxury; this resort has it all, from snow white beaches and waterfalls, to coral reefs and over-water villas. There is a 12-hole golf course, kayaking, sailing and jet-skiing!
Browse our list of Vanuatu accommodation deals for the best hotels in Vanuatu or for some cheap accommodation in Vanuatu and plan your escape to paradise today.