National Park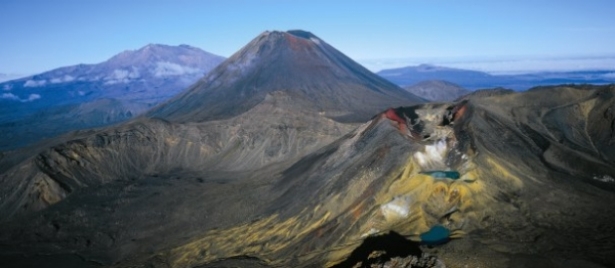 Accommodation in National Park, New Zealand
Where to stay in National Park
So named because of its proximity to two national parks that border its east and west, National Park village in New Zealand sits at the foothills of Mount Ruapehu and right between Tongariro and Whanganui National Parks in New Zealand's North Island.
There are more than enough hotels in National Park, New Zealand to welcome visitors year-round. In summer, anglers and white-water enthusiasts flock to New Zealand's longest, the Whanganui River. On the other hand, the Whakapapa River is for kayakers, and the mountain slopes of the same name are for skiers and snowboarders in winter. On clear days, the village affords unimpeded views of the three peaks located within the park: Mounts Tongariro, Ruapehu and Ngauruhoe ('Mount Doom').
Tongariro National Park and 'Mount Doom'
Stay close in a mountain-view bed and breakfast in National Park, New Zealand for a day – or two – of outdoor exploration in New Zealand's oldest park, UNESCO-listed Tongariro. The park is crisscrossed by tramping trails that range in difficulty and scenery, from 15-minute nature loops to weeklong hiking expeditions into the icy slopes and lunar landscapes that characterize most of the park. Then there's the 14-kilometer beginner-friendly mountain-to-sea cycle trail which parallels the Old Coach Road built a century ago.
If you are particularly physically fit, consider booking a guided Tongariro Alpine Crossing hike with your accommodation in National Park, New Zealand. The shuttle leaves the village everyday if weather is good, and the hike up the ridge will bring you past alpine meadows to volcanic summits scattered with pumice and springs, scarred by lava flows and carved out with turquoise and emerald crater lakes. This alpine crossing is not only the best one-day hike in New Zealand, but also the 'pilgrimage' site of all Lord of the Rings fans who may want to see the highly active 'Mount Doom' up close.
Whanganui River
The verdant slopes of Whanganui National Park create dramatic contrast to the snow-capped peaks of Tongariro National Park. Its land area of 742 square kilometres teems not only with mountain-loving visitors but endangered birdlife as well, like the national bird, kiwi, and the equally rare blue duck.
Even better, 'Whanganui' National Park entices with the serene landscape of the 'big river' of the same name. Whanganui River is not only the longest in New Zealand, but also one of the most ecologically diverse and easily accessible via leisurely Whanganui River canoeing trips. If you have plenty of time, consider going with the flow for three days to a week on an educational river journey which glides past spiritually important Maori sites, bush country, and long and narrow gorges that early European settlers had to navigate. Before returning to your accommodation in National Park, New Zealand, breathe in a fern-filled top view of the national park by taking a stroll across the intriguing 'Bridge to Nowhere.'