Wanaka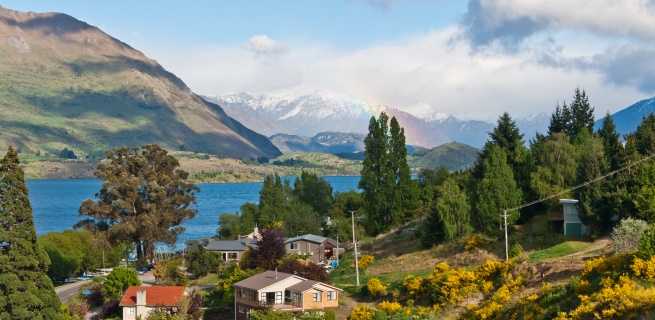 Where to Stay – Hotels in Wanaka, New Zealand
The world's first (lifestyle) reserve of its kind, Lake Wanaka and the township on its shores that shares the same name gained popular attention in the movie Mission Impossible III as the place where the protagonist couple met while on a heli-boarding adventure. There is, of course, much more to Lake Wanaka than meets the eyes – for example, an on-the-lake warm bath complete with cold champagne on hand – although its gem of a lake the colour of blue sapphire never fails to create magnificent first impressions.
Luxury apartments and hotels in Wanaka New Zealand
Named after a local Maori chieftain, "Oanaka" (The place of Anaka) maintains that lifestyle reserve distinction by expertly combining a small-town atmosphere and big city luxuries so you get the relaxing holiday you have always wanted, and not be overrun by pre-packaged trips not tailored to your own needs. Wanaka, like Queenstown, is a four-season lake resort but without the massive commercialization that has taken place in the latter, although skiing, paragliding and jet-boating are growing tourist activities.
You may think that because of its status, it would be hard to find cheap Wanaka accommodation amidst native beauty that commands top dollar. The fact that you can still get backpacker accommodation in Wanaka speaks of the locals' effort to keep things small and authentic while at the same indulging those who want to splurge for the vacation they deserve. Wanaka apartments accommodation ranges from luxury to serviced, while Wanaka hotels run the gamut of standard to five-star.
If you so desire, you can hit the refresh button and stay in a private retreat or a sumptuous chalet, or bring the whole family to a homestead. A lakehouse retreat or cosy B&B would be totally romantic for a honeymooning couple, while a villa or cottage, a townhouse or character hotels in Wanaka might prove revelatory for someone in search of soul.
What to do from your accommodation in Wanaka
Lake Wanaka itself offers endless opportunities to take a hike and be alone with your thoughts or loved ones. With over 750 kilometres of tracks around the lake and from the lake, you can set off in any direction from town and simply wander about. It won't hurt to bring along two wheels and a biking partner.
Or go vertical and look at the sparkling lakes and postcard-perfect scenery below. You can go vertical on foot if you have the stamina, or if you have cash to spare, take to the air and do things differently. Skydiving is one; touring on a helicopter is another.
Do not just string a hammock from the balcony of your Wanaka accommodation and look at the lake with longing; you can certainly do it too. Cruise the lake; rent a kayak for a more up close view of the clear waters, the pristine environment and its wildlife; or pump action into your water adventures and hire a jet-boat.
And do not hesitate to come in the thick of winter. Bring lots of layers and attitude on ice, put on your skis or snowboard, and slide down to freedom at Treble Cone and Cardrona. Or overnight in a hut at Mount Aspiring National Park with the warmest sleeping bag – or partner – you can find. Book online to find where to stay in Wanaka and book your Wanaka apartment accommodation, hotel or Wanaka motel accommodation.