Te Anau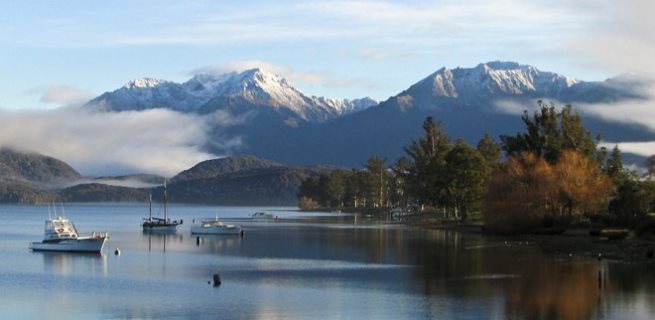 Where to Stay – Hotels in Te Anau, New Zealand
Rising out of the southern banks of a lake of the same name, Te Anau is a tiny gateway town (from Queenstown to Milford Sound) to Fiordland National Park with magnificent Milford Sound and Doubtful Sound. Its resident population of less than 4,000 swells to 10,000 come high season, which hotels in Te Anau, New Zealand have learned how to handle. Its lakeside location at the foot of New Zealand's second-largest lake once made Te Anau a "man's world" of hunting, fishing and shooting. Now, tourists also hike, kayak, dive and cruise the lake and its environs, or simply enjoy the no-hurry, no-worry, family-friendly lifestyle that the lake and the mountains – and glow worm caves! – bring.
Walks from accommodation in Te Anau, New Zealand
The largest lake in New Zealand by water volume, Lake Te Anau largely shapes the character of the town and the lifestyle it affords its residents. Its mirror lake has been carved by retreating glaciers and fenced by rugged mountains of prodigious heights.
Take all of these in during your walks along the Milford Track which starts at the lake's northern tip and ends at the dramatic Milford Sound, a south-to-north 54-kilometre trail you can complete in 4 to 5 days Stay the night in accommodation in Te Anau, New Zealand before and after your walk. If you want to remain close to Te Anau's town centre, you can explore on foot the equally popular Kepler track which starts and ends at the foot of the lake. Both walks promise isolation from the crowd and undiluted commune with nature.
Despite its rather diminutive size relative to the number of tourists it receives on any given day, Te Anau is surprisingly well-equipped to handle them all with style! There's a whole range of Te Anau accommodation to suit all budgets and tastes. Book online to choose where to stay in Te Anau. Backpackers are not necessarily deprived of beautiful view; if you are diligent enough, you can book a room that overlooks the lake.
Te Anau motel accommodation is likewise abundant, and so are inns, cottages, bed and breakfasts, and holiday parks. For those with long-term plans in mind, cheap Te Anau accommodation is available. If you want deluxe pampering and your budget allows, a luxury hotel in Te Anau, New Zealand welcomes online reservations.
Short drives from hotels in Te Anau, New Zealand
Te Anau is growing to be a tourist attraction all its own: the food here is superb; the shopping, 7-days a week; and Te Anau hotels, world-class. But what truly makes it a frenzied resort town is the opportunity for further exploration two hours either way out of the town centre.
To the northeast, you have the adventure capital of New Zealand, Queenstown, and to the north, you have the "eighth wonder of the world", Milford Sound. Two hours southeast and you have Invercargill, an otherwise unremarkable service town if not for its location to view the spectacular Aurora Australis or Southern Lights. Right across Te Anau Lake is the aforementioned 15,000-year-old cave still in its growing pains phase, but already well-endowed with thousands of bioluminescent insects that would make your trip truly unforgettable.