Coromandel Peninsula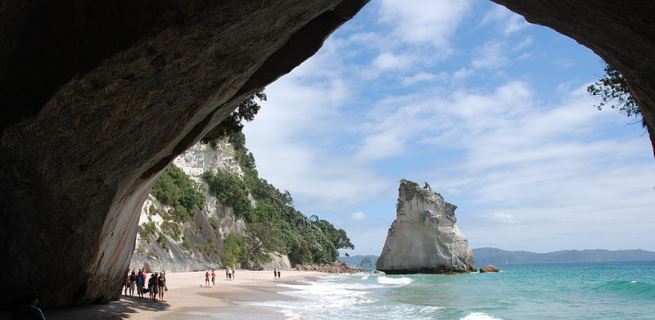 Hotels in Coromandel Peninsula, New Zealand
Just across the Hauraki Gulf, the Coromandel is a binocular distance from Auckland. Up close, it is everything that New Zealand's largest city is not: its interior is canopied with thick forests; its fringes lined with desolate white-sand beaches; and its general atmosphere is seemingly stuck in time. If their tourism slogan were to be believed, "The Coromandel is good for your soul".
And it does live up to expectations. The Coromandel is haven for all creative pursuits, given the inspiring scenery all around and the apparent lack of hurry. What it has in abundance is unspoilt native beauty and its proximity back to civilization should you so desire. The Coromandel may be removed from the hustle and bustle of big city, but it does not compromise convenience or luxury, be it in sumptuous food or accommodation in Coromandel Peninsula, New Zealand.
Living the Good Life in Coromandel Peninsula Hotels
The Coromandel Peninsula can give South Island's Nelson and Dunedin a run for their money, the former being an artist's refuge and the latter, widely considered as the ecotourism capital of New Zealand.
The Coromandel traces back its counterculture roots in the 1970s when hippies were looking for an alternative place to live. Today, you can walk into any crafts shop or an artist's studio in the Coromandel Town and Colville to pick up indigenous pottery or some other non-conformist piece of art.
But the most irresistible draw of the Coromandel is the kind of feet-in-the-air-and-cold-drink-in-hand lifestyle it promises, without making you feel deprived of the little indulgences that come with the good life. The appropriately named Hot Water Beach, for example, combines the sheer simplicity of digging for your own hot tub in the sand, and the luxury of dipping your sore muscles after a hard day of kayaking and tramping (the Coromandel has miles and miles of pristine bush).
You don't also have to make do with a "paleolithic diet" when you find yourself here. Whitianga and Mercury Bay produces legendary scallops; they even created a festival around them. And the hotels in Coromandel Peninsula, New Zealand certainly know how to pamper. A good number of Coromandel Peninsula hotels gets you access to a grand view or in a secluded location, but do not miss out on unassuming backpackers, quaint boutique lodges and B&Bs, harbour view motels, and family-sized holiday homes, parks and campgrounds. The Hot Water Beach has these types of accommodation for rent. Choose where to stay in Coromandel Peninsula by searching online.
Attractions from Your Accommodation in Coromandel Peninsula
The Hot Water Beach may not be ideal for swimming due to its strong undertows, but there are worthy substitutes. Put on your fins or tramping shoes and head north to Cathedral Cove, which you can access only by foot or boat in 15 minutes, a blockbuster favourite of swimmers and kayakers featured in Prince Caspian's Narnia.
If there is only one place you can go to in the Coromandel, it better be Whangamata. It has that rare combination of white sand beach, thick canopies, great surfing breaks but safe swimming grounds for a well-rounded and well-deserved holiday. Whangamata also throws in mountain bike trails and abandoned gold mining sites into their tourist package. It doesn't hurt that they also have the most strategically located hotels in Coromandel Peninsula New Zealand. As to the widely publicized arts and crafts side, check its shops for the best "tiki" or Maori humanoid carvings in the region.
If you are ready to rejoin civilization – and Auckland is a really classy civilization – it's just 55 kilometres west.