Broome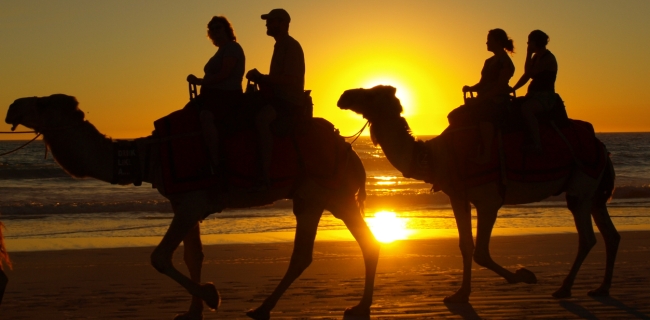 Hotels in Broome, Western Australia
Book hotel accommodation in Broome WA
The beautiful coastal town of Broome is located in Western Australia and is known as a popular tourist destination for local and international visitors. During the peak season, the population in Broome WA can a much as triple and, as a result, accommodation is in high demand. Whether guests are in search of a luxury resort, 5 star hotel or cheap accommodation in Broome at a smaller establishment, the best place to search and make reservations is online. Since Broome is such a great holiday destination, visitors should plan their visit in advance in order to secure the room they want.
The best things to do in Broome
Once you arrive in Broome, settling in at your hotel and freshening up will probably be the first priority on your agenda. Once you have done so, make your way around town, grab a bite to eat and get orientated.
If you have the time and feel up for an adventure on your first day, you can enjoy a scenic flight over the fabulous Horizontal Falls. Of course, you can do this on another day if you have a late arrival in Broome or would prefer to do something else on your first day. The scenic flight over this area is not to be missed and visitors always comment on how they couldn't take their eyes off the turquoise water below.
Towards the evening, you can make your way to Cable Beach for a relaxing stroll. This beach is a popular spot for families and anyone looking to relax. There's not much in terms of surfing but you can sign up for a camel ride along the beach if you like.
When in Broome, you also can't help but notice the wide varieties of influences in these parts. The Sacred Heart Church gives visitors a deeper insight into the local history while places like the Japanese Cemetery and the Buddha Sanctuary give you an overall perspective of Broome's culture and heritage.
A fun activity for young and old is a visit to the Malcolm Douglas Wilderness Wildlife Park. Just 20km from Broome itself, this park is home to crocodiles of all ages and sizes. If you are lucky, you can even get to hold a young croc and have your picture taken to show off back home!
Other great Broome activities
If you want to experience a vibrant atmosphere while shopping for some locally made souvenirs and gifts, then make sure you visit the Courthouse Markets. For more commercial or conventional shops, you can walk around town and visit the Broome Boulevard Shopping Centre.
As you explore Broome, you will also notice various restaurants, cafés and places to grab a bite or beverage. If the weather is pleasant, the best thing to do is to find a place with outdoor seating and leave indoor dining for rainy days or dinner.
Another great tip to remember is to research the various tour companies in advance. There are several companies that offer scenic flights, a few different camel safari companies and other tour operators. Check their pricing, location and availability so that you can choose the best option and plan your holiday budget accordingly. The last thing you want is to spend almost all of your budget within the first few days and get stuck in your Broome hotel room with very little to spend on fun for the remainder of your holiday.