San Diego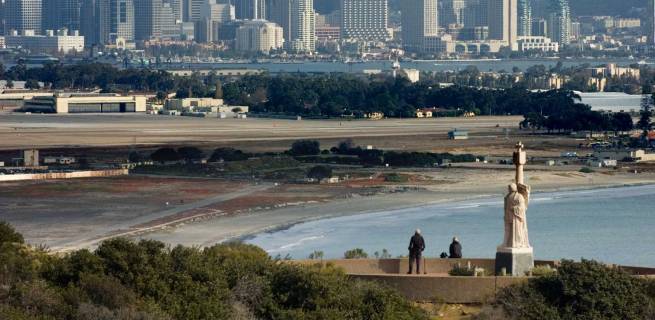 Hotels in San Diego, California, USA
Southern California in the USA is one of the top holiday destinations in the world, and San Diego is at the heart of the excitement. The busy city of San Diego, USA is known as the birth place of California and is located adjacent to the Mexican border. It is also the second-largest city in California and enjoys marvellously mild weather throughout the year.
With dozens of cities and numerous neighbourhoods of San Diego County, there are hundreds of San Diego hotels to choose from. There are so many factors to consider when choosing where to stay in San Diego, with a range of San Diego accommodation from oceanfront resorts to quiet bed and breakfasts and budget hotels, there is no end to the possibilities.
When staying in one of the hotels in downtown San Diego US, don't miss out on getting a good look at an actual US Aircraft carrier! The USS Midway Museum has one on display that served the US Navy for 47 years and it is certainly worth a visit even if you don't consider yourself a war or navy fanatic. With real jets and planes on board, you really have a lot to see!
The San Diego Zoo is a wonderful place for the whole family to enjoy. It is considered to be one of the best zoos in the country and is home to some extremely rare animals including koalas and giant pandas.
The Cabrillo National Monument was built in honour of Cabrillo who discovered San Diego Bay. Located at Point Loma, this magnificent sculpture has the best view of the city. While in the area, don't forget to check out the Old Point Loma Lighthouse too.
For anyone up for a nature walk or hike, you simply have to visit the Torrey Pines State Reserve. The abundant trees, undisturbed beaches and lagoon are perfectly intact and home to a number of bird species and other forms of life.
Sunset Cliffs Natural Park sure lives up to its name. Get yourself here just before the sun sets and be prepared for some of the most spectacular views. Make sure that you take your camera along! You won't want to miss out on this fabulous photo opportunity!
San Diego Hotels near the Ocean
One of the best things about San Diego is the amazing beaches, and a number of hotels take advantage of the gorgeous views and oceanfront property. Those looking for a beautiful beach setting, with a multitude of activities should consider Mission Bay. This seaside neighbourhood features miles of sandy beaches, and the waters are perfect for everything from kayaking and paddle boarding to surfing and waterskiing, and it is conveniently located near SeaWorld. Here you can escape to hotels like Paradise Point Resort and Spa, located on its own private island, or relax at the upscale Hyatt Regency Mission Bay, with its panoramic ocean views.
Called the Jewel of San Diego, another top choice for your holiday hotel is beautiful La Jolla. This quiet seaside neighbourhood is home to some of the best bed and breakfasts in San Diego. Pantai Inn is one such location, with its old world charm and location just steps from the beach. Those looking for quiet luxury should also consider The Bed and Breakfast Inn at La Jolla, another peaceful gem in this beautiful neighbourhood.
If you want to enjoy some sun and fresh ocean air, visit La Jolla Cove and spend the day at the beach. Here you can swim, dive, snorkel or just enjoy the soft sands. If it's surfing you're after, then Windansea Beach is the right choice for you. So, grab your board, paddle out and go catch some waves!
The Shell Beach Tide Pools are great for those who enjoy exploring marine life that enjoys the shallow waters and rocky ocean neighbourhoods. Tread carefully and look closely for some of the most beautiful and tiny sea creatures.
Hotels in Downtown San Diego
Historic and centrally located, downtown San Diego is the perfect headquarters for a holiday. From here you can head to the nearby Seaport Village for shopping and dining on the waterfront or explore the Gaslamp Quarter with its nineteenth century buildings, boutique shops and dozens of nightclubs and restaurants to enjoy. It is also very close to attractions like the San Diego Zoo, Balboa Park and the Convention Center.
Downtown is also the perfect place to find cheap hotels in San Diego, California with many locations boasting lower rates than on the water. One hidden paradise is La Pensione, a 68 room hotel, with an Italian flair. With two onsite restaurants and a gorgeous courtyard simply beckoning guests, it is the perfect place to relax on a budget. Another great choice is Pacific Inn and Suites, while décor is simple, the location is perfect for those looking to explore the area and a pool and continental breakfast add extra value.
Book online to find great San Diego hotel deals, the best hotels in San Diego, motels, hostels or apartments for rent in San Diego, California.