Portland Oregon Accommodation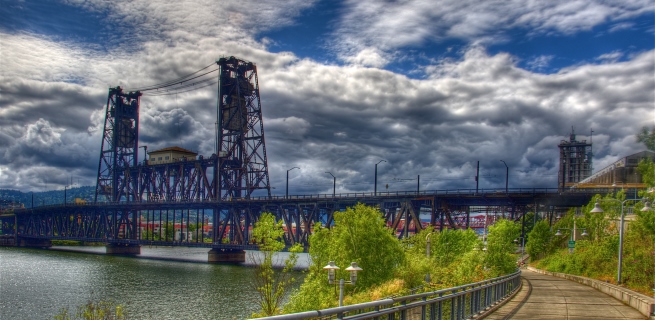 Hotels in Portland, Oregon, USA
Find hotel accommodation in Portland USA
Although Portland is not the capital, it is Oregon's most populous city and a popular tourist destination. Portland has also given rise to various forms of talent over the years including The Dandy Warhols, Everclear and Matt Groening (The Simpsons and Futurama animator). Portland might be a thriving city but it also offers its residents and guests a great taste of nature in the form of gardens, forest areas and parks. It's a great place to get it all from city attractions to outdoor recreation. The added incentive of cheap hotels in Portland make it even more attractive as a holiday destination.
Top things to do in Portland
When staying in Portland accommodation, one of the most popular natural sights in the area is the Columbia River Gorge National Scenic Area. This river is over one thousand miles long and, 80 miles of which, slices through a spectacular canyon. Take your time hiking through the area while enjoying the trees, waterfalls and brilliant fresh air.
Located one thousand feet above Portland's skyline is the Pittock Mansion. The mansion was built in 1914 and offers visitors some of the most amazing views of the surrounding mountains, rivers and forest areas. Guided and self-guided tours through the mansion are available. If you have a rental car in Portland, then Pittock Mansion is only about a 10 minute drive from central Portland hotel accommodation.
Portland even has their very own theme park! Also a short drive from accommodation in Portland city, the Oaks Amusement Park opened in 1905 has provided many families with great joy over the years. For the young and young at heart, this is a great place to visit for some fun.
Portland is also known for its numerous bridges, most of which are an easy walk from Portland hotel accommodation. St. Johns Bridge, Hawthorne Bridge and Fremont Bridge are three of the most recognizable of all and make for fantastic photo opportunities. If you wish to enjoy an aerial view of the city, you can visit the U.S. Bancorp Tower or the ODS Tower.
Portland, Oregon nightlife and entertainment
The bars, pubs and restaurants in Portland are plentiful. Some have interesting themes and hopping from one to the other can make for countless hours of fun and entertainment. Whether you are wanting to eat at a local restaurant instead of always dine at your Portland hotel restaurant, or looking for a large club, a cosy bar or something in between, you can be sure that you can find it in Portland.
The Gerding Theater at Armory Building, the Arlene Schnitzer Concert Hall and many other locations host regular live performances. An evening of comedy, romance or music is the best form of entertainment and it will give you a chance to enjoy the local talent.
Portland is also great for shopping. For an authentic experience, make sure that you visit the Portland Farmers Market and the Portland Saturday Market at least once during your stay. Sellwood has plenty of antiques for sale while Multnomah Village is a popular flea market. Finding the perfect souvenirs and gifts won't be a chore here!