Pennsylvania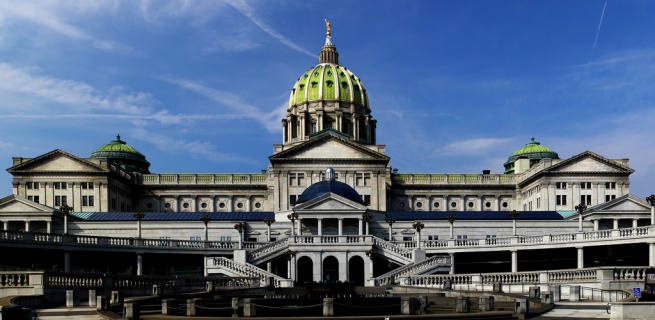 Hotels in Pennsylvania, USA
Compare hotel accommodation in Pennsylvania online
The state of Pennsylvania is bordered by Delaware, Maryland, West Virginia, Ohio, New York, New Jersey and Ontario, Canada. A portion of the state's border also runs along the great Lake Erie. Popular cities to visit in Pennsylvania include Pittsburgh, Philadelphia, Gettysburg and Erie. Each of which has it's own fair share of sights and attractions to make your visit very much worthwhile and memorable. Of course, choosing where to stay will largely depend on the cost of hotel accommodation in Pennsylvania. By comparing accommodation rates online, visitors can plan their trip from start to finish while sticking to their budget at the same time. It also helps to know what kind of attractions each city has to offer before making final plans.
Local history in Pennsylvania
This state is a real gem when it comes to the local history of the United States. Independence National Park is an absolute must when staying in Pennsylvania. It is home to the Liberty Bell and other historic buildings like Congress Hall, Old City Hall and Carpenter's Hall. Visitors can even see where the Declaration of Independence was signed and the very chair and table used by George Washington.
The town of Hershey is located in Philadelphia and, if the name sounds familiar, it's probably thanks to the famous Hershey Chocolates that are made here. In 1906, Hershey Park was built as a fun area for the local workers. However, over the years, it expanded and grew to attract visitors from all over, with good nearby hotel accommodation in Pennsylvania. There are plenty of rides and fun for all ages all in one place.
If you are staying a few nights in accommodation in Philadelphia, Pennsylvania, make sure that you visit the Philadelphia Museum of Art. Even if art is not your top interest, you will probably recognise the iconic steps that lead up to the building. This is because they were featured in all of the Rocky films and, from the top, you can enjoy a superb view of Benjamin Franklin Parkway and the tower at City Hall. Just five blocks from the Art Museum, you will come across the infamous Eastern State Penitentiary. A prison might not seem like a huge attraction to some but, since it was shut down in 1971, the building has remained remarkably unchanged. Enjoy an informative tour and learn more about some of the well-known convicts like mob boss Al Capone and bank robber William Sutton housed within its walls.
Another important historic location is the site of the battle of Gettysburg. Visit the Gettysburg National Military Park and take a walk through history.
Other interesting sights and activities
The Amish community in Lancaster County is the oldest in the entire United States. For anyone interested in learning more about their way of life, and staying in accommodation nearby, this is a fascinating activity. Take a tour in a horse and buggy if you like and don't forget to pick up some handmade souvenirs.
The State Capitol in Pennsylvania is one of the most visited buildings in the state. It was built in 1906 and the architecture is simply superb. When viewing this building, you should definitely take a few steps back in order to capture the entire structure in a single photograph.
Don't forget to take a trip to Erie as well. Outdoor fun is abundant in these parts with lake activities, forest walks and even water parks!
A holiday in Pennsylvania is definitely suitable for the whole family and there's more than enough family Pennsylvania accommodation and fun for all ages in these parts. If you have enough time on your hands, you can even make your way across to some of the neighbouring states.