Puerto Vallarta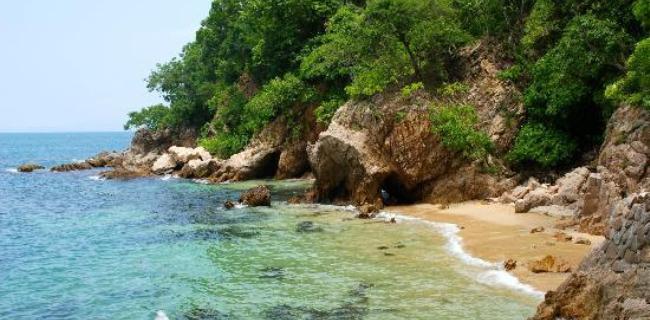 Hotels in Puerto Vallarta, Mexico
Book a hotel in the beach resort city of Puerto Vallarta
Puerto Vallarta attracts thousands of international and domestic tourists each year. Not only do visitors stop here while their cruise ship makes port but the city's international airport is also a major point of access for many tourists. The fresh ocean air, the warm sun and the seemingly limitless options of things to do make Puerto Vallarta a holiday destination fit for the whole family. A wide variety of accommodation in Puerto Vallarta. So, whether you need a cheap hotel accommodation in Puerto Vallarta or you want to live the life of luxury in a 5 star room with an ensuite fit for royalty, you certainly have more than enough options to choose from.
Top Puerto Vallarta attractions and activities
From the moment you arrive in Puerto Vallarta to the time you leave, you are sure to spend most of your time out and about. For most visitors, their hotel or resort accommodation in Puerto Vallarta serves as little more than a place to sleep and freshen up in between activities.
A popular trip for visitors is a boat ride out to Las Caletas Beach Hideaway. The early morning trip out to the beach is organised by a professional local tour team and will include various extras as well as entertainment. This activity can easily keep you busy for several hours so be sure not to plan on doing much else on this day.
There are also other boat rides available and, whether you choose a morning trip or sunset cruise, you will not be disappointed by the lovely view!
Back on dry land, the Zona Romantica (or Romantic Zone) is another big hit with visitors. The cobble stone streets are lined with bars, pubs and restaurants where you can enjoy a meal or drink while you take in the sights around you. This area has everything from old town charm to ocean views and is also particularly lovely in the evening.
Another wonderful place to enjoy an evening stroll is the El Malecon Boardwalk. After enjoying dinner, there is nothing better than walking off your meal as you breathe in that crisp air and gently stretch your legs. Be sure to make your way to Los Muertos Pier and you might even be fortunate enough to see the local pelicans catching their dinner.
Other amusement and things to do
For families, planning your holiday involves so much more than just booking the right Puerto Vallarta resort accommodation. You need to determine just how many family friendly activities there are for your younger travellers to enjoy.
One sure winner is Aquaventuras park where you can enjoy the pools, slides and even swim with some fun loving dolphins!
For anyone looking to experience the delicious local Mexican cuisine with a handy guide to help you through the menu, you should definitely consider a food tour. There are a number of professionals in the area ready and waiting to treat your taste buds to the finest in Mexican foods.
You will also find that shopping is a pleasure in these parts. While many shops are clearly geared up for attracting tourists, you are likely to benefit from the competitive prices here. You will find everything from jewellery and fine art galleries to the Old Town Farmers Market. This market is special in that it allows you the chance to experience everything in one neat location. So, take your time to view the locally produced artworks, food products and other lovely crafts. This is a real hot spot for tourists who are looking for the perfect souvenir or gifts to take home.
Whale watching, bungee jumping and lounging on the beach are all part of the Puerto Vallarta charm. Your holiday really is what you make of it and you decide whether you want a thrilling experience or a truly relaxing getaway.