Cozumel
Hotels in Cozumel, Mexico
Compare hotel accommodation in Cozumel
Located in the Caribbean Sea off the coast of Playa del Carmen is the island of Cozumel. Not only does the island welcome tourists passing by on luxurious cruise ships but the island also has its own airport for those who want to enjoy a longer stay in this exotic location. Visitors can reserve a room at an elegant 5 star Cozumel resort hotel or, if they are looking for cheap accommodation, there are 2 star hotels and other forms of basic accommodation in Cozumel to suit your budget needs.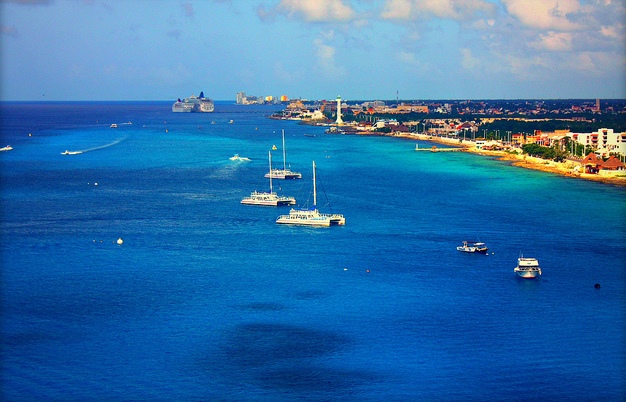 The best Cozumel attractions and things to do
Visiting Cozumel is not about spending hours in your Cozumel hotel or resort accommodation. As soon as you arrive, you will hear the island begging you to go exploring! There are many outdoor and water activities to suit everyone's preferences. If you enjoy scuba diving, you can explore the magnificent coral reef known as the Santa Rosa Wall or even the Palancar Reef. If you prefer an easy, shallow dive then a trip to the El Paso del Cedral Reef is for you. There are so many different diving locations to choose from and you might even be able to sign up for a package deal if you intend on exploring more than one.
Stingray Beach is a great place to take the whole family. The area is divided into two sections. One for snorkelling and another shallow area. The rays make their way through both areas so, if you can dive to depths of about 10 feet with just a snorkel, then you can venture down to touch them. Alternatively, you can hang out in the shallow section and get a hands on experience there.
Needless to say, there are plenty of beautiful beaches to choose from. The best thing to do is to ask your Cozumel hotel receptionist and staff for their recommendations. The locals tend to know where the best places are.
Chankanaab Park is also wonderful for the family and will keep everyone entertained for at least most of the day. Park features include snorkelling, diving, animal shows and a walking trail through a replica village where you can learn more about the local history.
A popular local landmark is the Punta Celerain Lighthouse. It is located at the southernmost tip of the island and the beach views are superb.
Shopping and other fun in Cozumel
One important note to bear in mind regarding shopping in Cozumel is that you are bound to find black coral jewellery for sale. As common as these are in Cozumel, you should make one hundred percent certain that you are buying from a reputable source and that you receive a detailed receipt to show to customs when you return home. Black coral is endangered and, as such, it could very well be confiscated if you don't have proper proof of purchase.
The Plaza is a great place for shopping and, even if you don't buy much, it's a great way to spend a few hours without having to return to your Cozumel accommodation.
Plaza Confetti is also great for shopping and this flea market offers everything from jewellery to arts and crafts and more!
Since Cozumel is so geared up for tourists, you can expect to find an ample selection in terms of tour operators and guides. From diving to motorcycle tours and even Mexican food and pub crawling tours, you can literally take your pick! More often than not, making your way around with a registered tour operator will give you a fun and educational experience. These tours are also structured in such a way so as to show you as many of the top highlights as possible.