Acapulco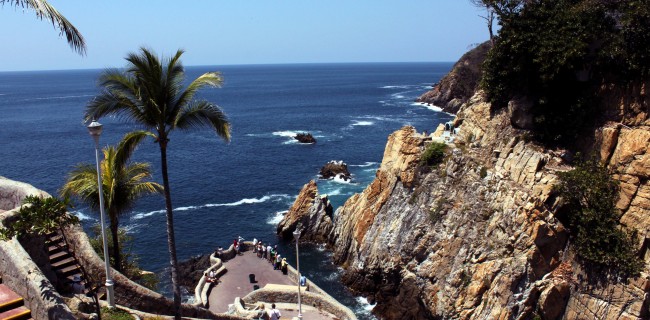 Hotels in Acapulco, Mexico
Book your hotel in Acapulco online
Acapulco is a major seaport along Mexico's Pacific coast and has been an important port since colonial times. It also the country's largest resort city with hundreds of Acapulco hotels, bed and breakfasts, apartments and resorts accommodation available to host its guests. Many of the annual tourists include American teens enjoying their spring break and the city is known for offering plenty of daytime and night entertainment.
Top things to do in Acapulco
Students and anyone on a budget will most likely choose to stay in cheap accommodation in Acapulco like hostels or a 2 star hotel room. Those with more funds available can take their pick from 3, 4 or even 5 star Acapulco resort hotel accommodation. No matter where you choose to stay, however, one thing is for sure – you won't be spending much time in your room with so much to do!
The cliffs at La Quebrada are a popular attraction for both locals and tourists. While visitors are more inclined to take in the views and relax as they enjoy the sea air, the locals partake in the risky activity of cliff diving. Feel free to watch the locals show off their fearless skill but beware of trying this yourself. If you visit during the winter season, this is an ideal spot for whale watching.
Tour operators offer glass bottom boat rides out to Isla La Roqueta which is a fantastic activity for the whole family. Get a superb look at the local marine life as you venture out to this small island. The island itself has its own zoo, restaurants and wonderful beaches too.
If you are looking for something relaxing to do that won't take more than one hour, make your way to the Acapulco Botanical Garden. While this garden is small, it is home to an abundance of indigenous plants and is great for a slow stroll after lunch or in between activities.
Make sure that you visit the older parts of the city while you are here and get a closer look at the famous Mural Diego Rivera. This wall mural will give you some more insight into the local history as well as the old art culture.
Entertainment and shopping
Who can resist a night in such a lively destination? If you leave your Acapulco hotel room early in the morning, there's no reason for you to return until you need to freshen up, slip on a change of clothes and make your way out for the evening once again! The Sinfonia hosts various shows throughout the year so make sure that you check the local listings and plan to see any show or shows that you are particularly interested in.
In terms of more casual evening entertainment, you will find an abundance of bars, restaurants and clubs to choose from. If you don't mind the rowdy nature of teens on spring break, feel free to book your trip around this time for an amazing party vibe. If you would prefer not to be surrounded by too many youngsters, then book your trip before or after spring break.
As for shopping, whenever you visit any foreign destination, the local flea markets are always a must. Mercado Municipal is a wonderful food market while Mercado de Artesanias has plenty of arts and crafts to choose from. It's best to treat shopping as an activity instead of rushing through. You might miss a great bargain if you hurry.