Kingston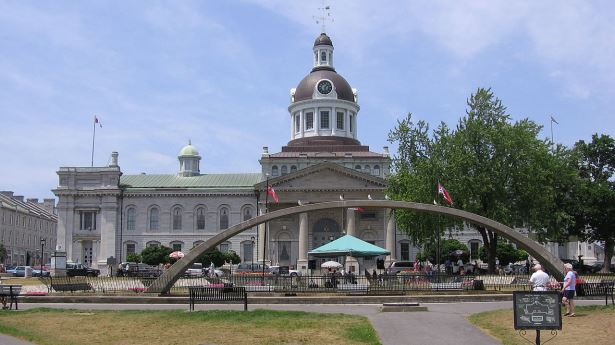 Hotels in Kingston, Ontario, Canada
Compare hotel accommodation in Kingston
Due to its location between Toronto and Montreal, Kingston served as the first capital of the Province of Canada. Although this did not last, it is still important from a military perspective and attracts plenty of visitors each year. Whether you are planning on booking a hotel in Kingston for the duration of your trip or you will only spend a few days here as you travel from city to city, there's plenty to keep you happy while you're here. In addition, there are several luxury hotels in Kingston and cheap Kingston accommodation if you are trying to stick to a budget.
Historic areas and the great outdoors
The area's history is rich and can be enjoyed around just about every corner. Fort Henry is a popular place for visitors and locals to frequent and you may even be inclined to stroll around here several times during your Kingston trip. If you visit at just the right time, you might be fortunate enough to witness the changing of the guards and the marching parade.
If you want to learn about the local history and folklore, then sign up for the Haunted Walk of Kingston. An expert guide will take you around town on foot as you are entertained by all the spooky stories about the local residents that once called Kingston home.
The local waterfront is another popular spot to visit. Enjoy the view of the water as you stroll along and enter any shops along the way that interest you. You can even stop in at one of the cafés or restaurants for a meal, beverage or light snack while you do some people watching and take in your surroundings. Many of the hotels in Kingston are located in this area so, if you want a room with a view, this is the place to be.
The Lemoine Point Conservation Area is perfect for that day out and about. There are several biking and hiking trails as well as fishing spots. You will also find plenty of benches and picnic areas along the trails so be sure to take your food and refreshments along for the day.
Family fun and entertainment
If you are travelling with young ones, you will know that planning your trip goes well beyond booking your hotel room online. You need to really plan your itinerary and include activities for the whole family.
The Kingston Family Fun World is just the place to go if you are looking for something for everyone. With a drive-in theatre, go-karts, mini golf and more, you can be sure that everyone will find something they enjoy.
In terms of other forms of entertainment, the Grand Theatre and the Wellington Street Theatre host various shows including music, dance and theatrical performances. Check the local listings to find a show suitable for everyone.
Don't miss out on a free boat ride on the Wolfe Islander III. The trip is about 20 minutes long and is suitable for the whole family.
Just like any other city, you will find a great variety of shopping opportunities from the Kingston Public Market to the Frontenac Mall. There are also various cafés, bars and restaurants to choose from if you did not opt for an all-inclusive package when booking your accommodation in Kingston. The advantage of this is that you get to dine where you want and experience different scenery along the way.