Fredericton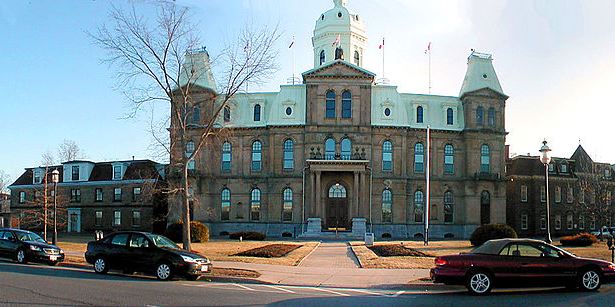 Hotels in Fredericton, New Brunswick, Canada
Compare hotel accommodation in Fredericton online
Fredericton is the capital of the province of New Brunswick and is the third largest too. As a city where the quality of life is more than satisfactory, visitors can be sure that they will get nothing less than the best possible treatment. The hotels in Fredericton cater for different markets and, no matter what kind of budget you have, affordable hotel accommodation in Fredericton is fairly easy to find. Particularly if you run searches for Fredericton hotels online.
Historic buildings and public spaces to visit in Fredericton
The New Brunswick Legislative Building is one of the city's most prominent features in terms of historic buildings. Opened in 1882, it is home to the Legislative Assembly of New Brunswick. It is just as impressive inside as it is from the exterior so be sure to include a visit in your itinerary.
The Soldiers' Barracks is another wonderful piece of local history and has been successfully maintained since its construction in 1827. The Barracks is now home to several different craft shops and visitors staying in Fredericton can go on tours, buy souvenirs and more.
The Government House, located along the Saint John River, is the official residence of the Lieutenant Governor of New Brunswick. It was built to replace the previous residence that burned down in 1825. Construction of the new Government House began in 1826 and was completed in 1828.
The city also has plenty of parks and open spaces where you can enjoy a relaxing stroll and let the kids play to their heart's content. Carleton Park and Killarney Lake Park are both really popular. The latter being ideal for picnics. The Green is another fine outdoor area and the location of the Fredericton Lighthouse. This area is particularly lovely around sunset so make sure that you stick around to watch the sun go down before heading out to your favourite restaurant or returning to your cosy Fredericton hotel room.
Other things to do in Fredericton
For beer lovers, a visit to the Picaroons Brewing Company is a must. Tour this top quality brewery and learn all about where the various ingredients are imported from and how they all contribute to the creation of various delicious traditional ales.
If you are looking for a good reason to get up and out of your hotel bed on a Saturday, then look no further than the Fredericton Boyce Farmers Market. You will find all the best fresh local produce, crafts and a chance to enjoy the local culture all in one place. There are over 250 indoor and outdoor stalls so, you can shop in the undercover area should the weather be in any way unpleasant.
In terms of evening entertainment, you have several options in Fredericton. The Fredericton Playhouse and the Theatre New Brunswick both host various performances and the various pubs, clubs, lounges and restaurants will keep you out of your hotel accommodation in Frederickton and be entertained each evening.