Tenby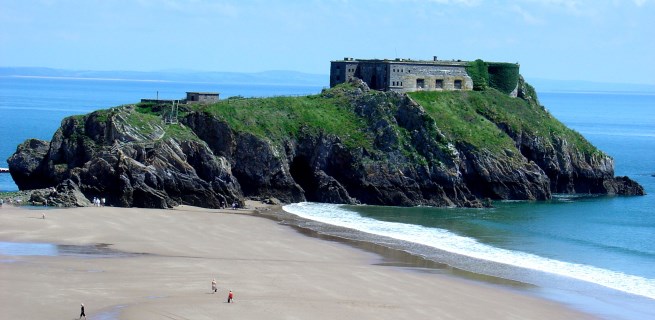 Hotels in Tenby, Wales
Where to stay in Tenby, book accommodation in Tenby online
Tenby is one of those Welsh seaside resorts that has remained a popular summer destination since its creation of a saltwater spa in the 19th century. Overlooking the Celtic Sea on three sides, Tenby in southwest Wales has all the trappings of a lively holiday resort come cool summers and the contemplative tranquility come mild winters.
When hotels in Tenby Wales are not swarmed with holiday-makers, the medieval streets and Norman-built walls of Tenby recall the times when it was the summer retreat of English war heroes and luminaries such as Horatio Nelson, Jane Austen, George Eliot and JMW Turner. Tenby's early origins are also complemented by pastel-colored rows of sea-facing houses and a smattering of white Georgian and Victorian mansions that lend a laidback, French Riviera vibe. While undeniably dependent on tourism, Tenby cultivates a thriving arts and crafts industry that complements brisk business during tourist season.
Tenby Castle Trail
Tenby is not 'Little England Beyond Wales' for nothing. Tenby's hilltop location itself was the result of the need to defend itself from various attacks as it grew wealthier from brisk wool trade. So it's only proper to explore Tenby's castle trail from a rustic bed and breakfast in Tenby Wales to complete your journey back in time.
You can start five miles southwest at the Manorbier Castle built in the 12th century. Its beachside location was perfect to stand in for Cair Paravel in the Chronicles of Narnia. Next, ten kilometers to the west, is Carew Castle that, while built in 1100, was a military stronghold for the last two millennia. Farther northwest is Picton Castle rising on the banks of the River Cleddau and dates back to 11th century. Like Manorbier Castle, Picton's also played the part of King Miraz's castle in the Chronicles of Narnia.
Tenby's coastal connections
Tenby's 2.5 mile-long sandy beaches make up most of its attraction. As its harbor is sheltered from the vagaries of the Atlantic Ocean and the Irish Sea, Tenby's beaches offer safe swimming for families and even the differently abled. Even today, Tenby's coastal walkways accommodate those of limited physical abilities, a legacy of prams pushed around during the Victorian years.
The coast also offers a range of accommodation in Tenby Wales that make it easier to explore several islands offshore. St. Catherine's Island is accessible in low tide, and Caldey Island, via ferry service in summer.
St. Catherine's 'rock' is but a small limestone outcrop with several caves, while the bigger Caldey Island less than a mile offshore is home to Cistercian monks and their cottage industry of cheese, perfumes and bread; flowers unique to the island; and a large colony of birds and cormorants.