Pitlochry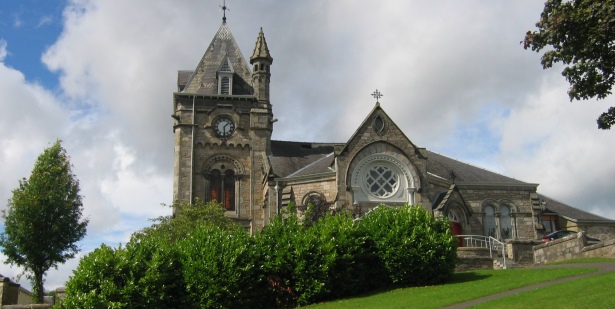 Hotels in Pitlochry, Scotland
Book Accommodation in Pitlochry Online
Located at the geographical centre of Scotland on the banks of River Tummel, Pitlochry, a town whose population of 2,500 swells more than tenfold every summer, is gateway to the Scottish Highlands. Gaining fame after Queen Victoria remarked favourably of the area, Pitlochry is today United Kingdom's centre for hillwalking, thanks to modest heights of Ben Vrackie (800+ metres) and Schiehallion (1,000+ metres).
Start your leisurely walk at the town centre where you can also find a concentration of hotels in Pitlochry, Scotland, pass through the salmon ladder (the fish are caught in the power station dam's weirs), and gradually gain elevation at the ancient hamlet of Port na Craig, or through a much gentler slope that will bring you to the last of Scotland's traditional single malt whisky distillery, Edradour. If you are up for a tougher challenge, you can take the Bealach route to the moorland in the summit, or pedal your way up following the 85-mile Etape Caledonia cycling route. Your efforts will be well-rewarded with excellent views of the surrounding glens, lochs, falls and expansive fields of wild flowers.
Where to Stay in Pitlochry for Angling & Adrenaline Adventures
For the adrenaline-seekers, Pitlochry offers Bungee jumping platforms and rushing rivers for white-water rafting; less-demanding water sports are also equally popular. Apart from the abundant salmon, grayling and trout in Rivers Tummel and Garry make easy pickings for ardent anglers. The riverside offers great location to find a charming bed and breakfast in Pitlochry, Scotland to be within arm's reach of rich fishing grounds.
The lochs found in the area also make excellent boating playgrounds. As you glide in your canoes, keep your eyes peeled for roe deer, red squirrel, osprey, the rarely sighted golden eagles and pine martens of the weasel family.
Book Hotels in Pitlochry for a Weeklong Repertoire
Pitlochry Festival Theatre seats only a little more than 500 but attracts an audience 100 times bigger in summer. If you stay the entire week, you will get to see a different performance each day, and two on matinee days. If you visit in mid-September, you will also get to peek into Scottish culture when locals celebrate the Highland Games and entertain visitors with 'ceilidh' (folk music and dance) and bagpipes.
It's easy to get stuck in Pitlochry for the varied recreational opportunities it offers visitors, but it also makes an excellent touring base for those wishing to explore the region in all directions. Finding accommodation in Pitlochry, Scotland puts you within comfortable distance of equally fascinating destinations that are some of the best in the country. A short drive out of town is the Queen's View, a historical lookout point to take in the panoramic spread of River Tummel and surrounding vegetation. Edinburgh, the capital, and St. Andrew, the golf capital, are less than two hours south, while the famous Loch Ness is about the same distance to the north.