Ayr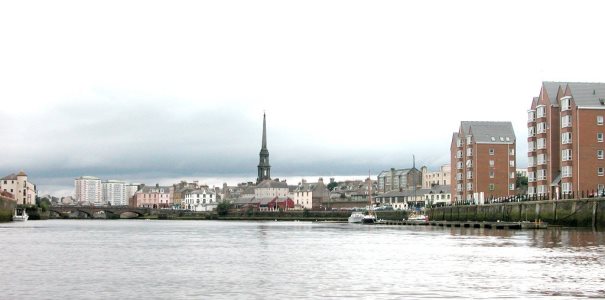 Hotels in Ayr, Scotland
Book accommodation in Ayr online and explore the coast
Ayr is best known for its musical export 'Auld Lang Syne' and as the birthplace of the poem's creator, Scotland's national bard, Robert Burns.
Situated on the mouth of the River Ayr on Scotland's southwest coast, the town of Ayr started as a royal burgh at the time of Robert the Bruce and eventually became the military base for Oliver Cromwell whose presence is marked by the St. John's Tower.
Ayr was already a popular seaside resort during the Victorian era, and continues to attract beachgoers with its ocean view rooms, broad esplanade and long sandy beaches. Hotels in Ayr, Scotland make an excellent base for exploring the Ayrshire coastal path which runs for 100 miles broken every now and then by well-preserved castles, castle ruins and sounds and sights of flowers and bird life.
Robert Burns' Ayr
From your beachside bed and breakfast in Ayr Scotland, the Isle of Arran is in full view and on a clear day, the tip of northern Ireland; if you get lucky, you also get to view pods of seals and otters. You may even catch a paddle steamer across the Firth of Clyde and into the isle to take in the panoramic views of 'Scotland in miniature.' If you miss the steamer – as they usually ply the waters only during summer –play a round of golf in Ayr's world-class greens.
The 'Burns an' a' that' Festival is in full blaze in May, but any given day you can always visit the poet's family farm cottage at Alloway some two miles south at the edge of the town. His childhood home contains the core collection of his works; around town, you will see Burns' statues and plaques – even poems scratched into windows – that mark places important to the Scottish counterpart of Shakespeare.
In his honor, indulge your appetite in a traditional Burns supper which showcases the intriguing haggis and the ubiquitous Scotch whisky. The dinner would also be an excellent opportunity to listen to bagpipes and constitute an equally valid excuse to wear kilts.
Where to Stay in Ayr, Scotland
Ayr's 16th century racecourses also precede its reputation. 'Punting' (betting) may not be to everyone's taste, so if you are more partial to sailing, kayaking, cycling or history-hunting, the northern coast of Ayrshire, still home to Viking descendants, is always abuzz with happenings. The wide-ranging accommodation in Ayr Scotland from the city center and farther up north in the Largs also makes it a convenient launching pad to gatecrash thumping music venues and a bubbling pub scene in Glasgow. Scotland's largest city, one of United Kingdom's most musical cities, is less than one hour northeast.