Derry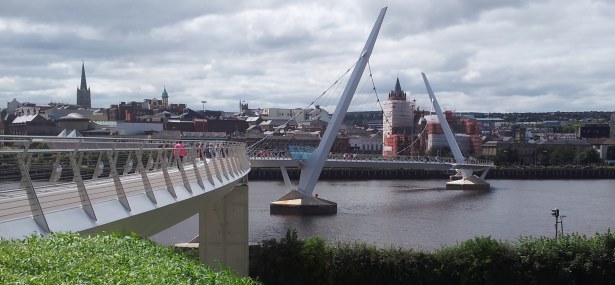 Hotels in Derry, Northern Ireland
Book accommodation in Derry online
Located squarely in the island of Eire, Derry identifies itself as British with its official name, Londonderry. Second only in importance and population size to Northern Ireland capital, Belfast, Derry is nonetheless famous for its Victorian, Georgian and Edwardian architecture and intact Walled City considered as one of the finest in Europe and the last extant in Ireland. Its location on the west bank of River Foyle, where the concentration of hotels in Derry, Northern Ireland can be found, also adds charm to its Old-World atmosphere, strengthening its efforts to become the centre of North Ireland's cultural renaissance.
Beneath its graceful exterior, Derry speaks of the great political divide between royalist-Protestants and nationalist-Catholics; walking the 400-year-old Wall and listening to a historical account of the Siege of Derry contribute to a deeper understanding of why Northern Ireland opted out of the Irish Free State. The same lessons of history more than 300 years after the Siege can be glimpsed at the Tower Museum and the Museum of Free Derry which contains, among others, hate mail received by surviving families of Bloody Sunday.
Stay in Derry for a day trip to the Giant's Causeway
Northern Ireland's desire to bridge the severed ties with the rest of Eire is best articulated with the construction of Peace Bridge, today a busy corridor connecting commuters from the city centre to all corners across the river. Stronger road and bridge network also enables visitors to get to fascinating destinations in the outskirts, like the interlocking basalt column of Giant's Causeway a little more than an hour's drive to the northeast. There's a collection of quaint bed and breakfast in Derry, Northern Ireland and on the Causeway Coast should you wish to linger and make the most of your time outdoors.
Musical and movie pilgrims may want to stop by at the ruined medieval castle of Dunluce prominently featured in a Led Zeppelin album and Jackie Chan movie.
RMS Titanic in Belfast
Before heading down the coast to the capital from your accommodation in Derry, Northern Ireland, make a peace toast to the Irish at the oldest distillery in the island, Old Bushmills, famous for its triple-distilled malt whisky; it's less than 3 miles inland. To see the slipway where the ill-fated RMS Titanic was launched, you can drive to Belfast, less than 90 minutes away.
There is more to see along the way than this grand finale. The coastline from the Giant's Causeway to the country's capital is littered with onsite locations for the Game of Thrones where actual ancient warriors spilt blood in an attempt to defend their homeland from invading Normans.