Torquay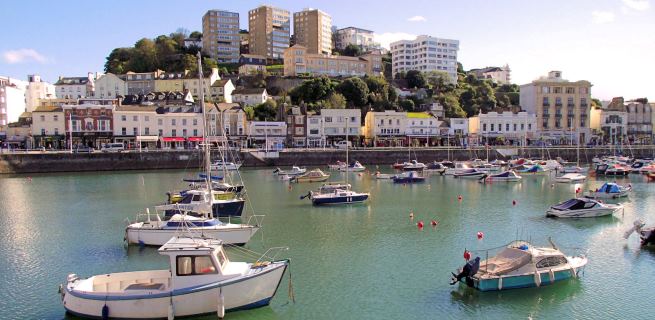 Hotels in Torquay, England
Torquay is a seaside town and the third largest settlement in Devon. Initially, the town's economy was based on fishing and agriculture but, since the early 19th century, it became more and more popular as a seaside resort. Interestingly enough, it was also home to the famous author, Agatha Christie for most of her life. Torquay is still a popular tourist destination today and there are plenty of hotels in Torquay to choose from when booking your holiday. The hotel rates vary from reasonably low cost rooms of 3 star hotels in Torquay at the Grosvenor Hotel Torquay to somewhat pricier 4 star hotels in Torquay at the Imperial Hotel Torquay, Palace Hotel Torquay and the Grand Hotel Torquay.
Historic sites near Torquay
Cockington Court is a wonderful place for the entire family to visit. Make sure you set out with more than enough time to wonder around. You will surely want to view the local professionals perform crafts like glass blowing, the making of rocking horses, blacksmithing and more!
The Agatha Christie Mile is one of the most popular local attractions and it really allows visitors to learn more about this famous writer. Visit all the places that she so dearly loved and enjoy the sights that helped inspire her creative mind.
Torre Abbey was founded in 1196 and has managed to survive a number of dramatic historical events. You can enjoy everything from talking portraits and interactive displays to the exotic plants that await in the garden area.
Of course, don't forget the historical and cultural importance of the local museums! Top choices include the Bygones museum and the Torquay Museum.
Things to do in Torquay
A trip to the Babbacombe Model Village will be like a trip back in time and through the ages! Experience a miniature version of British history that dates back from the 60s to present day.
Kents Cavern is an extremely popular local attraction. These caves welcome loads of guests each year and, the best thing about caves is that you can visit them over and over again without ever getting tired of the wonderful formations, patterns and colours.
If you want to get a good look around from above, go for a ride on the Big Wheel. She sure is a giant and there is no better way to get an aerial view of Torquay than from the top!
Seeing as though this is a resort town and located on the coast, you should have no trouble finding a beach in the area. Depending on where you are staying, ask your hotel clerk or some of the locals where you can enjoy some sun and water fun!
When booking your accommodation in Torquay, bed and breakfast or the best hotels in Torquay; remember that when choosing where to stay in Torquay to have a look around online first. Compare facilities, rates and look for special online deals too. By booking online, you can browse through the various options along with your fellow travellers and compare customer reviews to help you make your final decision.