Plymouth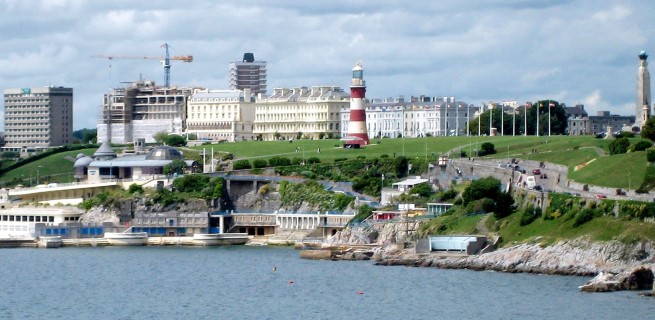 Hotels in Plymouth, England
The 'mouth of the River Plym" is that small seaport city at the southwest foot of Great Britain that cast a large shadow in the making of a New World settlement in what was to become the United States of America.
Little did the Pilgrim Fathers – or Plymouth Brethren as they were more famously known back home – know that their then-daring transatlantic voyage would start a tradition called Thanksgiving, one of the many legacies that they would transplant in American soil, on top of the Bay Psalm Book which they printed in the colony and considered by experts today as the first-ever printed in British North America. (One of the few surviving copies was sold for $14 million.)
Much of the Pilgrim's history is etched today in the Mayflower Steps where those seeking religious and other freedoms finally cast off for a new life abroad. Folklore, however, might direct you to an altogether different location, the Admiral MacBride Pub, where incidentally you can also enjoy ale, lager, cider and even wine before calling it a day and heading back to your bed and breakfast in Plymouth England. Or you can have a more immersive experience with gin at the Black Friars Gin Distillery in operation since 1793. The building itself predates the distillery by some 300 years.
Plymouth's sea-faring achievements went a few decades back when it gave birth to an Elizabethan era circumnavigator, Sir Francis Drake, who not only paved the way for the British to expand its overseas territory, but also helped defeat the Spanish armada and strengthen the former's maritime muscle. The same Mayflower Steps in the Barbican harbour front, today lined with a string of good value hotels in Plymouth England, sent him off to his voyages overseas.
Most of Drake's personal effects are safe-kept by the National Trust at Buckland Abbey, a 13th century manor he purchased from the Cistercian monks after his voyages, and stands extant some 15 kilometres north of the city centre.
To understand where all these circumnavigation ideas stem from, climb to the spot where Drake was said to have played a game of lawn bowls before heading off to defeat the Spaniards. 'The Hoe' overlooks the harbour and the Plymouth Sound. The flat sea beckons; if you are tempted to follow its siren song, hop on a ferry that links Plymouth to Brittany, France or Santander, Spain. Either trip takes less than 24 hours.
Everywhere you turn you will see Plymouth's strong link to the sea. The Royal William Ward, which served as a naval dockyard in the early 19th century, was recently converted into a lifestyle and recreation venue, and for those who plan to make Plymouth their base to explore the greater Devon region, offers long-term accommodation in Plymouth England.