Lake District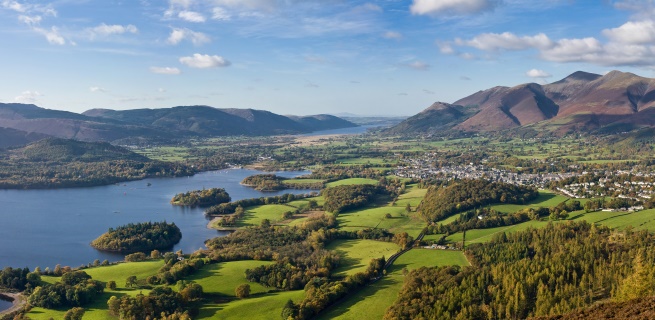 Hotels in Lake District, England
The Lake District is also known as The Lakes or Lakeland and this beautiful mountainous region attracts many tourists each year. It's not only famous for its natural splendour in the form of mountains, forests and waterfalls but also due to its association with the famous poet, William Wordsworth. The hotels in the Lake District, England are fairly reasonably priced with plenty of bed and breakfast in Lake District. Finding places to stay in the Lake District is easy with so many to choose from.
Top places to visit in Lake District
The places you wish to visit and the activities that interest you will largely determine where you decide to stay. Windermere is one of the deepest lakes in the area and the area features the Holehird Gardens, Treetop Treks, the historic walking area of Orrest Head and many more attractions and activities.
The Old Man of Coniston hiking trail and Tarn Hows are both attractions is the area with Coniston Water ferries another popular attraction for visitors. The Ullswater Lake is a popular location where visitors enjoy taking a break from their usual activities and enjoy some much needed time in the company of nature. Derwent Water in Keswick also offers seasonal ferry rides to visitors and, while you are in the area, make sure that you check out the Derwent Falls too!
Things to do in the Lake District
Whether you are standing on top or below a mountain, there are few things more spectacular than its enormous size and its calm yet dominant appearance. There are a number of large mountains in the Lake District. Of which Scafell Pike is the largest with Scafell itself in close second.
Visitors often enjoy scenic drives up Wrynose Pass and various other mountain biking, hiking and climbing activities. The Ambleside Climbing Wall provides beginners and experts with the opportunity to enjoy the thrill of climbing in a safe and controlled environment.
For those looking for something a little less energy consuming, a trip to the Lakeland Motor Museum or the Blackwell Arts and Crafts House is just what you need. Take a stroll around, enjoy the sights and perhaps pick up a souvenir or two to remember your trip.
Before deciding where to stay in Lake District, if you have a pet, make sure that you consider one of the dog friendly hotels in Lake District and take your best friend along with you on vacation. You can search for luxury hotels in the Lake District, or cheap hotels in Lake District, UK from the comfort of your own home by running an online search. An online booking will also save you money so be sure to look out for great savings on accommodation in Lake District.