Zurich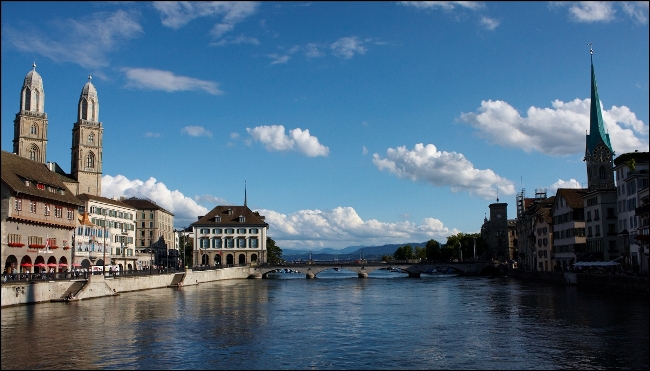 Hotels in Zurich, Switzerland
Zurich is the largest city in Switzerland and also boasts the largest airport and railway station in the country. The city is bursting with life and historic landmarks just begging to be visited. Many of the luxury hotels in Zurich, Switzerland are somewhat on the expensive side but don't let that put you off. There are cheap hotels in Zurich city centre as well as hostels in Zurich that cater for those on a less than limitless budget; as well as some great boutique bed and breakfast in Zurich.
Museums, historic areas and Zurich landmarks
A walk through the Old Town (Altstadt) in Zurich from your central hotel in Zurich, Switzerland is both entertaining and educational. Here you will come across a number of shops, restaurants and religious landmarks.
The Museum of Art (Kunsthaus Zurich) has a number of works on display. The artwork ranges from the 1600s to more modern art. Another popular museum is the Zoological Museum. This extensive museum has a wide variety of interesting displays that are a special treat for everyone.
The Opera House in Zurich is an architectural work of art in itself. If you are a fan of the arts, make sure that you check out the local schedule and plan your trip so that you can attend a show here.
The Church of Our Lady (Fraumunster) and Great Church (Grossmunster) are both religious and historical sites. These old structures are fascinating from afar and even more so as you get closer.
More local fun in Zurich, Switzerland
The Zurich Zoo is a lovely place for the whole family to enjoy. The zoo has plenty of trees and greenery as well as 250 different species of animals. The massive biosphere, tropical rainforests, elephant house and the Madagascar pavilion are all popular attractions of this zoo.
Lindenhofplatz is a lovely, green park that overlooks the city. The Rietberg Museum is located here as well so visitors can enjoy both of these sites together. The Rietberg Museum is an art museum dedicated to non-European art. Visitors can enjoy works from America, Africa, Asia and other parts of the world.
If it's shopping you are after, be sure to visit Bahnhofstrasse where there are plenty of shops designed to tempt you like never before!
For a lovely, relaxing time by the water, make sure that you don't miss Seebad Enge. Take a walk, enjoy the sunset and take some memorable photographs that are guaranteed to make everyone back home wish they were you!
If you plan on staying for an extended period of time or if you are travelling in a large group seeking self-contained serviced apartment accommodation in Zurich, be sure to consider renting one of the apartments for rent in Zurich. Alternatively, if you intend on visiting for a shorter amount of time, there are many hotels in Zurich, Switzerland to choose from. No matter where you choose to stay, make sure that you do your browsing and accommodation booking online to find where to stay in Zurich. That way you can benefit from the amazing offers that some of the best hotels in Zurich have to offer.