Valencia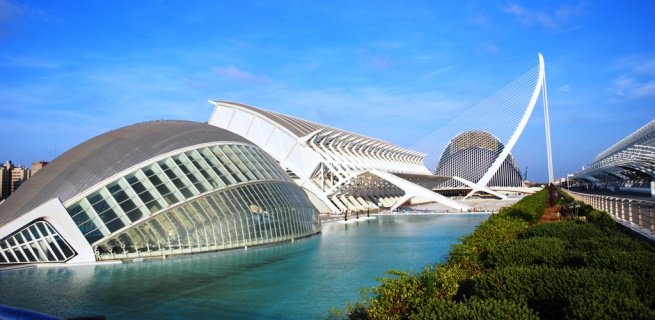 Hotels in Valencia, Spain
Spain is one of the most delightful and exotic countries to visit in Europe; start your holiday in Valencia on the coast where the extended summer (still warm in September and October) means you can still fit in a beach holiday after the bulk of tourists have left. At this time of year there are many hotels in Valencia, Spain offering great discounts, and you are likely to find a good deal on accommodation in Valencia. In addition to hotels and B&B's, apartments in Valencia are a very popular choice for family holidays, and there are many to choose from in the city. First decide which part of the city will suit you best and then browse our listings to find where to stay in Valencia and the best hotel in Valencia that will be ideal for your holiday.
Beach hotels in Valencia, Spain
Most of the hotels in Valencia are to be found in the centre, but if you are visiting primarily to soak up the sun you may prefer to be close to the beach. There are a couple of Valencia hotels situated right on the beach that may suit you; have a look at Hotel Las Arenas Balneario Resort or the Parador de El Saler, which has a golf course in addition to the beach! Also near the beach, in the Poblats Maritims area are a selection of self-contained serviced apartments in Valencia that you could rent – try Luxury Boutique Valencia Beach Apartment, which has everything you need for a comfortable beach holiday, or the inexpensive Apartamentos Marina Port. You can also find quite a few bed and breakfast, cheap hotels and hostels in Valencia close to the beach; just search for accommodation in Poblats Maritims, Valencia.
Best Hotels in Valencia
Valencia has a lot more to offer tourists than sun and sea, and most of the best hotels in Valencia are situated in the city centre, where you are close to many of the attractions and transport. The most central situation to seek is the area between the Plaza del Ayuntamiento and Plaza de la Reina; if your accommodation in Valencia is located here you will be able to walk to most places. For a luxury Valencia hotel in this sought-after area look no further than the superb Caro Hotel.
Cheap Valencia Hotels and Apartments
Less expensive and set in a great central location is the Vincci Palace Hotel. For a really cheap hotel in Valencia just a short walk from the centre you will love the Rooms Deluxe Cuidad de las Ciencias, a hip and quirky hotel/hostel with very electric decor and friendly young staff (recommended in The Telegraph) that supplies all the facilities of a hostel (laundry, kitchen, etc) but offers comfortable en-suite rooms. Aparotel 50 Flats Centro Cuidad offers excellent spacious apartments with a hotel-like feel at a very modest rate. Free Wi-Fi and well equipped kitchens.