Salou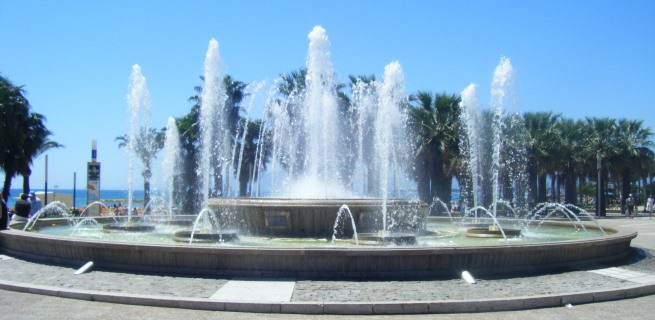 Hotels in Salou, Spain
More famous as the theme park capital of Spain, Salou also entices the sand-seeker with miles of "Costa Daurada" in the Spanish Mediterranean coast. As a well-established visitor magnet offering hundreds of hotels in Salou, Spain, this go-to holiday resort south of Barcelona has made a name for itself as the favored destination of the thrill-seeker, sports fanatic and beach lover.
Where to Stay in Salou
Myriad tour packages, accommodation and all inclusive hotels in Salou make this slice of Costa Daurada not only a seaside leisure destination but also Spain's capital for sports tourism. Salou draws fans of golf, volleyball, football, sailing and car racing, and triathletes of all endurance levels.
True to its reputation, theme parks that offer different brands of thrill abound in Salou. There's the aptly named Adrenaline Park for go-kart enthusiasts and bungee jumpers. Aquopolis Waterpark, 10 minutes east of Hotel Calypso Salou, has giant water tubes and slides, while southern Europe's largest theme park PortAventura has gravity-defying roller coasters and drop tower rides. If you are into any of these adrenaline-fueled pursuits, consider booking a room with Villa Romana Salou and Hotel Belvedere Salou which are both southwest of PortAventura.
Things to Do in Salou
It's not just all man-made and machine-powered thrills that delight visitors to Salou. The two beaches, Playa LLevant and Playa Ponent on either side of the port, are the original reason why sun-starved visitors come in the first place. Before giant theme parks invaded Costa Daurada, Playa Llevant, which is walking distance from Magnolia Hotel Salou, was already a base for various watersports. The less adventurous sun-worshipper might find that relaxing beach view villas in Salou and its 30-plus Blue Flag beaches – beaches certified to be clean and swimmable – are more than enough by themselves.
With so many apartments in Salou, the city makes an excellent base to enjoy platefuls of fresh seafood in Cambrils on the same stretch of coast 15 minutes east. The iconic and yet-to-be-completed church of Sagrada Familia and football fever are in Barcelona, 75 minutes by train or rental car in the opposite direction. The Catalonian capital is only second in population size to the capital city, Madrid.
Inland stands the pink saw-toothed mountain of Montserrat and the historical village that lies in its shadow. Obviously an outstanding lookout point to view Catalan's coast, Montserrat serves as a base for religious pilgrims. Devout Catholics make the ninety-minute trip from the coast to the Benedictine Abbey of Santa Maria right at the foot of the mountain, while history hunters come in search of the purported location of the Arthurian Holy Grail. Extreme climbers, who have agenda of a different kind, are more interested in the vertical rock face of Cavall Bernat.