Palma de Mallorca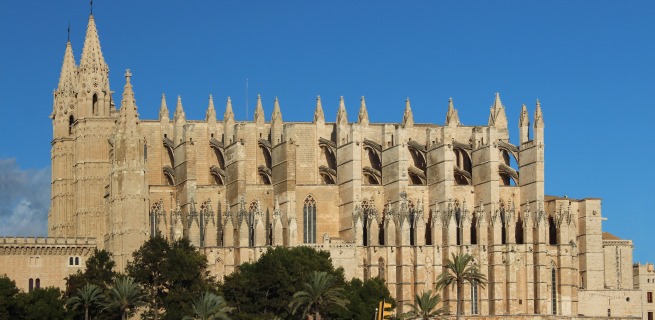 Hotels in Palma de Mallorca, Spain
The lovely city of Palma de Mallorca is the only major city on the island of Mallorca, off the east coast of Spain. Mallorca is probably the most popular island holiday anywhere in Europe, and visitors from all over Europe and further afield flock to the island every year for a dose of sunshine and to experience the lively nightlife. Some of the best beaches in Mallorca are situated just outside the city of Palma and consequently there is a great demand for holiday accommodation in Palma de Mallorca.
You will find a wide variety of hotels in Palma de Mallorca, Spain as well as a good selection of hostels and apartments in Palma de Mallorca. The majority of the hotels in the city fall into the popular 3-star, mid-price category and there is something for everyone. To find where to stay in Palma de Mallorca browse online to find the perfect hotel in Palma de Mallorca to suit your needs.
Beach Hotels in Palma de Mallorca
If you would like to find a beach hotel in Palma de Mallorca, search for properties in the Les Meravelles, Cala Major or Can Pastilla suburbs; a couple of the best hotels in Palma de Mallorca are the Hotel Thb El Cid Palma and the HM Gran Fiesta. There are also some cheap hotels in Palma de Mallorca near the beach and also some hostels for those on a tight budget.
Boutique Hotels in Palma de Mallorca
Choose the Historic Quarter for the greatest concentration of chic and trendy boutique hotels in the city. Have a look at Puro Hotel Palma and Santa Clara Urban Hotel and Spa, if you enjoy something a little different. The Can Cera Hotel, the Hotel Palacio Ca Sa Galesa and the Boutique Hotel Calatrava (all 5 star) are a few of the best luxury hotels in Palma de Mallorca for top end indulgence and pampering with price-tags to match. Instead, you could choose a great 4 star apartment in the historic centre, such as the Palma Suites, which are modern and luxurious and have all you need for a self-catering holiday.
Resort Hotels near Palma de Mallorca
Less than 10km from the city is Palma Nova, where there is an excellent selection of hotels and resorts, including two resorts which have a golf course on site. Try Son Caliu Hotel Spa Oasis and the Hotel Globales Santa Lucia if you would like to combine golf with the beach.