Marbella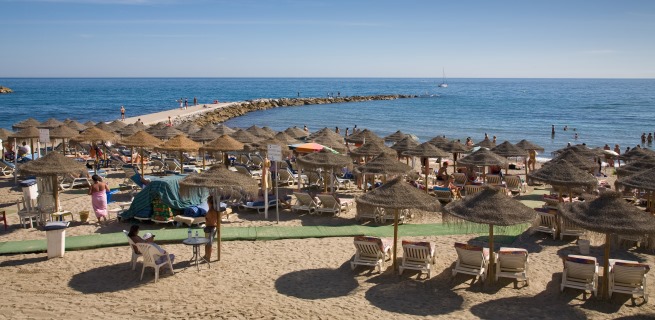 Hotels in Marbella, Spain
Marbella is that sunny slice of Costa del Sol where sleek Ferraris meeting up with behemoth yachts is a regular scene. It is the adult sandbox of the rich, the famous and the royalty, but it can also be a Spanish Mediterranean playground for the peseta-pincher holidaymaker. Sandwiched between Sierra Blanca and the Mediterranean Sea, Marbella has maintained its original patches of vegetation while satisfying finicky jetsetters with expansive greens and ultra-exclusive beach clubs. "Mar-bay-ya's" real draw, however, is that it makes good its promise that you can live the European sweet life wherever you maybe in the social order of things.
Where to Stay in Marbella
Marbella had a start long before minor European nobilities made it their summer residence, as far back as the Paleolithic period around its mountains, and as early in contemporary history as 7 BC in its coasts when Phoenicians settled in the vicinity. While their presence is not as visible, Marbella's Roman and Moorish past stands right at the heart of El Casco Antiguo in the form of defensive walls. This section of the Old Town is where you can find tastefully furnished apartments in Marbella at reasonable rates. You can book accommodation in Marbella online for the best hotels in Marbella, Spain; and to find a good Marbella hotel deal. To be within walking radius of both Old Town and Playa Fontanilla, Senator Marbella Hotel provides great location.
Marbella has 27 miles of coastline so finding a good-value Marbella beach hotel should come easy. Four-star Hotel Fuerte Marbella is less than a mile away from relaxed Bounty Beach where refreshments and entertainment go down smooth. If you want to be in the shadow of the club-swinging society, the seaside Marbella Playa Hotel farther to the east is surrounded by several golf courses.
Hotels in Marbella Spain
Bring you close to high society and high peaks
Getting your own posh digs in a Marbella club hotel is the first step to rub elbows with the jetset. Membership may be required before you can set foot in exclusive beach clubs like yacht-lined Puerto Banus and champagne-splashing Nikki Beach, but if price is no object, these enclaves of the society's top shelf make your dream of living the European high life a reality. Look harder though and you can get a decent meal for a decent price at Playa Nagueles, the beach closest to Marbella's Golden Mile where international celebrities and royalties from as far as the Middle East maintain vast estates and opulent mansions.
Leave the urban comforts of holiday villas in Marbella to trek up to 1,200 meters above sea level. If you stick to it, you will be rewarded with unobstructed and fantastic views of Costa del Sol and the city. The hike up La Concha, which is the southern part of Sierra Blanca, is well-trodden and signposted. The change in scenery and atmosphere dominated by pines and olive groves can be a refreshing contrast to the heat of the coast.
Retail therapy in Marbella need not burn a hole through your card if you shop like locals do. Skip past American-style mini-supermarkets and make a beeline to Nueva Andalucia Flea Market on weekends for quirky finds that would make great but cheap souvenirs. You also don't have to pay through the nose for grilled sardines, pink clams or fried anchovies and sangria if you take your meals in a 'chiringuito,' the traditional beach bars of Andalusia.