Benidorm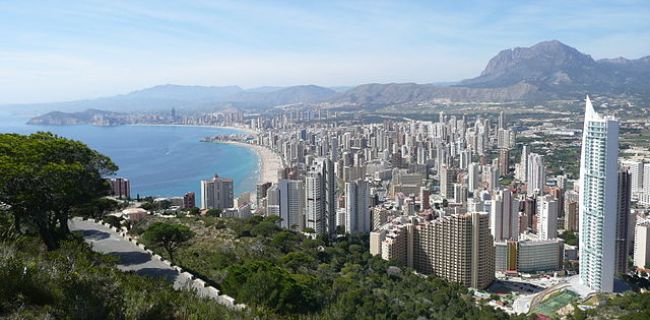 Hotels in Benidorm, Spain
Only a few decades ago, Benidorm reeled in tuna instead of tourists. Today, Benidorm is Costa Blanca's (White Coast) top holiday resort in Spain's east coast, the favored wintering ground of the 60-plus age group, and one of the country's top party zones for all ages come summer. Aside from the generally favorable climate of 18°C on average, Benidorm has four kilometres of Blue Flag (safe for swimming) sandy beaches in the shadow of some of the best hotels in Benidorm, Spain and Europe.
Where to Stay in Benidorm
Benidorm is quintessential Spanish Mediterranean and the first to popularize package tours and offer all inclusive hotels in Benidorm. While that purely touristic move flooded the local wining and dining scene with Irish pubs and fried breakfasts, tapas bars are still ubiquitous in the Old Town where you can also sample Jalon Valley wines and feast on "jamon" (ham).
Locating villas, hotels and apartments in Benidorm is pretty straightforward. Orient yourself from the port marked by a rocky promontory, and head west to get to the more relaxed Playa de Poniente where Hotel Cabana Benidorm is located. To the east of the promontory is another Blue Flag beach, Playa de Levante. Hotel Madeira Benidorm is 200 metres from the beach and affords a sweeping view of Costa Blanca. The restaurant scene here is more slanted to British visitors and the nightlife more upbeat. Out of earshot but still walkable from the beach is Hotel Marina Benidorm.
Right at the promontory and immediately inland is Benidorm's Old Town or El Castel, a place as old soul as its 14th century beginnings. Closer to the center of the town and a little farther up but less than a kilometre from the beach is Hotel Poseidon Benidorm. If you come during the shoulder season outside of July and August, you should be able to walk in and secure cheap hotels in Benidorm with a view.
Places to go from hotels in Benidorm, Spain
There are plenty of entertaining diversions in Benidorm if you brought along the kids. Water and amusement parks, playgrounds, and green spaces are all family friendly. Hostels, villas in Benidorm and alternative accommodation in Benidorm are mostly situated on the coast, so for active adults who want to take in a different view of the city, a day trip up the 1,400-metre Puig Campana 20 kilometres inland may have to be separately arranged as it does not usually come with standard tour packages.
For the gastronomic tourist, a 90-minute jaunt up north to Valencia, Spain's third largest city after Madrid and Barcelona, should be worth it for a plate of "paella" (rice dish with meat or seafood) or "calamares" (squid) after a short stop at the 'more Spanish' coastal town of Altea. The more adventurous may want to escape Benidorm altogether to Peacock Island, 30 minutes away by glass-bottomed boat.