Alicante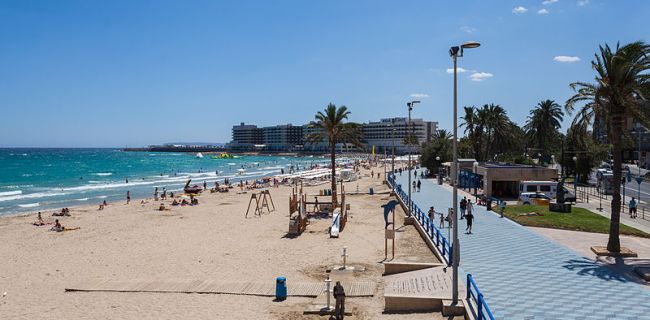 Hotels in Alicante, Spain
Alicante is a popular holiday resort of Costa Blanca on Spain's east (white) coast, thanks to its sandy beaches, outdoor-perfect climate and an abundance of cheap hotels in Alicante, Spain that put you right at the heart of beach action and within striking distance of historical destinations. Because of its favourable location, Alicante sends out cruise passengers to Europe's party capital, Ibiza, or a journey across the Mediterranean to Algeria in North Africa. More than 2,000 years ago, the Carthaginian general Hamilcar Barca found the city's location equally strategic, and he established a city right where Alicante stands today.
Where to stay in Alicante
The easiest location to find the best hotels in Alicante, Spain is right by the city beach, Playa del Postiguet. It's a Blue Flag (awarded to beaches that are safe and clean) 900-metre golden beach in the shadow of Castillo de Santa Barbara, one of the continent's largest fortresses that dates back to 16th century. Hotel Maya Alicante is to the north of the castle, a few doors down the Alicante Archaeological Museum, the current storage place of artefacts dug from Hamilcar Barca's Lucentum.
However, if you want a personal inspection of the Roman city's remains, a place to stay closer to the town of Albufereta might serve you better. Hotel Daniya Alicante, while about a 10- minute drive from the central beach, is only 2 km away from Lucentum. Playa de la Albufereta, which served as the harbour of the said Roman village, is five minutes away by car.
For a trip back in time stay in Alicante
Venture from your accommodation in Alicante, farther out of the central beach area to get to one of the finest beaches in Europe, Playa de San Juan, less than 20 minutes to the north by tram or bus. This 7 km stretch of white sand is backed by an 18-hole course. There are few holiday apartments in Alicante on this side of the coast, as most of them are in Centro and Casco Antiguo immediately south of the Castle of Santa Barbara. Playa de San Juan is lined not so much with seaside villas in Alicante but with residential properties, so it has fewer shops and bars catering to tourists but more than enough square footage for beach lovers.
Alicante not only beckons holiday-seekers but history and archaeology aficionados as well. Outside of Lucentum and the Archaeological Museum of Alicante, several other museums, monasteries, castles, basilicas and fortresses that date back to as early as 14th century are scattered about town. Check the 18th century Gravina Palace if you are into fine arts, or the Gothic façade of 14th century Basilica of Santa Maria if you are into taking great photos. A hike up the Castle of Santa Barbara offers unparalleled views of the west Mediterranean Sea and the city, and a rough idea of where to locate important landmarks as you navigate Alicante's winding lanes.
There are also the remnants of Alicante's defence towers from when Barbary pirates pillaged coastal villages. The nearby tiny island of Tabarca was once the pirates' haven, but now an ideal escape for those who want to unplug from the conveniences of the 21st century.