Porto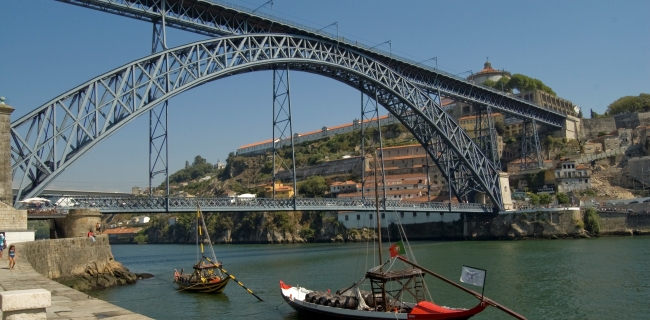 Hotels in Porto, Portugal
Book hotel accommodation in Porto online
Porto is the second-largest city in Portugal and, as of 1996, it is also listed as a UNESCO World Heritage Site. Of all the city's offerings, the most well-known is most definitely the local wine. Port gets its name from the city itself and the area is also a major contributor in the production of cork. It's safe to say that there's nothing on the market that quite compares to the flavour of Port and every tourist should enjoy this fine wine at least once during their visit. The local tourism industry is also booming and, as a result, visitors can make the most of some of the most competitive Porto hotel accommodation rates, and discover where to stay in Porto online. With various types of hotel, apartment and bed and breakfast accommodation in Porto to choose from, the best way to compare hotels in Porto is by running an online search before making any definite plans.
Winner of the European Best Destinations 2014 award
Porto is an award winning city and, upon arrival, you will see why. With a great variety of attractions, activities and sights to see, Porto is able to keep all its guests happy.
A trip to the famous 1886 Ponte D. Luis I bridge will allow you to enjoy some of the best city views. The bridge crosses the Douro River and links Porto and Gaia. If you are a particular fan of the river views and fancy a boat ride, the view of the surrounding city from the boat will give you the chance to see everything from a different angle. On that watery note, the Zona Ribeirinha is often referred to as the heart of Porto and this is the place to visit for a truly authentic cultural experience. There are plenty of places to grab a bite to eat as well as shops in this area. You could very easily spend hours wondering around and enjoying the sights and sounds.
Apart from the water attractions, Porto has plenty of historic sites, landmarks and points of interest. It's usually a good idea to do some research on these attractions before visiting so that you can really get the most out of your trip.
The Church of Santa Clara (Igreja de Santa Clara) is probably the most popular sight of religious significance. Construction of the original church began in 1416 and was completed by 1456. It was necessary to expand the structure in the 18th century due to the increased number of nuns living there. Although the exterior looks rather simple, the interior is a pleasant surprise. The church consists of various building styles including Baroque, Rococo, Manueline and Renaissance.
Another famous local sight is the Palacio da Bolsa which was destroyed by a fire in 1832 and rebuilt between 1842 and 1891. Some other portions were added in later years.
Local cuisine and entertainment
A popular local dish in Porto is called Tripas à Moda do Porto which is some specially prepared beef stomach and served with white beans. If you feel more tempted to try the local fish, Bacalhau à Gomes de Sá is a popular choice and is similar to cod.
A popular snack in Porto is called Francesinha. It is a kind of sandwich made up of various meats, cheese and a beer-based sauce.
For something to keep you busy in the evening, check the local listings at the Casa da Musica and Coliseu do Porto for some of the best musical performances.