Pisa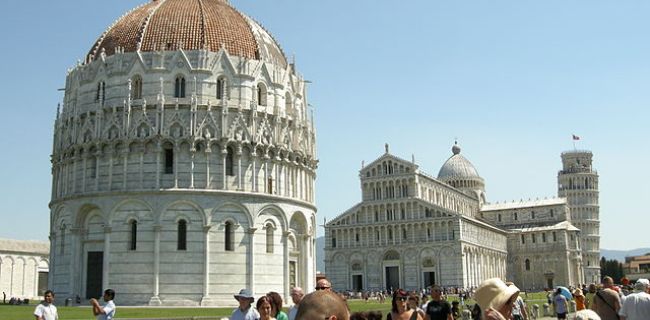 Hotels in Pisa, Italy
The city of Pisa is the capitol of the Province of Pisa, and is your gateway to the north east of Italy and the whole of Tuscany. Most visitors to Tuscany will fly into Pisa airport and continue their journey from there by car, train or bus. The city is well equipped for visitors and there is accommodation in Pisa, Italy to suit everyone's needs. If you are looking for where to stay in Pisa, the majority of the accommodation in Pisa is provided by hotels in the mid-price category, and there is also plenty of good Pisa bed and breakfast. For visitors who like a little luxury, there are a handful of 4 and 5-star hotels in Pisa, Italy and a couple of 4-star graded apartments to rent in Pisa.
Most people come to Pisa to see the famous leaning tower and take silly photos of themselves appearing to hold it up! While that is good fun, there is a lot more to Pisa than her leaning tower. Check into a hotel in Pisa, Italy for a few days before continuing your travels and get to know the city and what it has to offer.
Best central Pisa hotels
Some of the best luxury Pisa hotels are situated close to the hustle and bustle around the leaning tower, and if this is where you would like to be, choose from one of the following hotels: Grand Hotel Bonanno, Bologna Hotel Pisa, Grand Hotel Duomo, or Hotel Relais dell'Orologio. Suites Villa Soriano is also centrally located and is a good choice for families.
Central Pisa bed and breakfast
You will also find several centrally situated Pisa bed and breakfast such as Borgo Largo 51 B&B Pisa and 4 Rooms B&B Pisa, both of which are less than 500mt from the leaning tower.
In addition, if you are looking for hostels in Pisa, there is the very highly rated Hostel Pisa Tower in Via Piave which offers really cheap accommodation in Pisa.
Apartments in Pisa, Italy
Apartment rentals in Pisa can be a very cost-effective alternative to hotels, particularly for families. Right in the city centre you will find Le Volte Vacanse Toscane where you can rent charming apartments with kitchenettes for self-catering. There are a few other villas and apartments to rent in Pisa that are a little further out of town and require a short commute.
Places to visit near Pisa
There are several places to visit in Tuscany near Pisa, including the beaches of Tirrenia and Viareggio and the wonderful Thermal Spring town of Montecatini, (where there are several very up-market Pisa resorts and hotels) where you can take the waters and soak up the charm of this classic Italian town.