Amalfi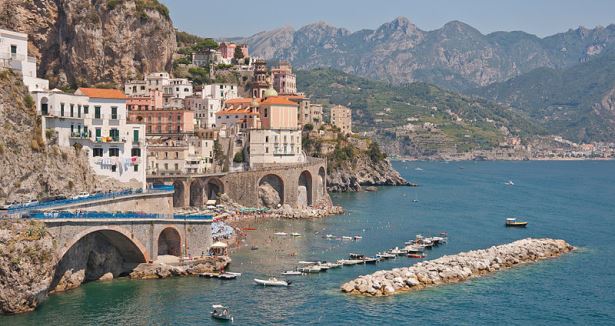 Hotels in Amalfi, Italy
Compare hotel accommodation in Amalfi
The town of Amalfi is located in Campania, Italy and known for its scenic surroundings. The cliffs and coastal views is one of the reasons that made this a popular destination for upper class Brits in the 1920s and 1930s. Today, it is frequented by visitors from all over the world who come to enjoy the natural sights as well as the medieval architecture. In order to accommodate all of the visitors to this region, the hotels in Amalfi offer fine places to stay at various rates to suit every budget. From top class hotels and apartments to cosy B&Bs, you can take your pick of where to stay in Amalfi.
Out and about in Amalfi
There's nothing like living in style when visiting a place like Amalfi. Just imagine getting all dressed up and leaving your luxury hotel room for a night of elegance at one of the local theatres. At least one of your nights should be spent enjoying an opera performance in true Italian style.
Fine dining awaits at the many local restaurants and, if you are looking for some seasonal fun, make sure that you book your trip during one of the popular annual events. The Festival of Saint Andrew lasts for a few days in the month of June. Visitors and locals can enjoy fireworks displays and other festivities. The Bizantine New Year's Eve celebration and Regatta of the Ancient Maritime Republics are also wonderfully festive and make for a cultural and entertaining experience for all.
After long days and late nights out, your comfortable Amalfi hotel bed and all those luxury features will come in handy.
Things to do on the Amalfi Coast
It should come as no surprise that the best way to search for the best hotels accommodation in Amalfi is by looking around online. By planning your trip in advance, you can be sure to visit your fair share of historic sites such as the Duomo di Sant'Andrea Apostolo. The superb exterior architecture is complimented by stunning interior décor. Pay close attention to the phenomenal detail that decorates every inch this fine cathedral.
For an invigorating day outdoors, take a hike around Valle delle Ferriere. The crisp fresh air, lush trees, streams and waterfalls make this scenic trip through nature a pleasure all the way. It may require a fair amount of effort to complete this trail and you should also take note of local bus times in order to make it back in time.
If you are visiting Amalfi and planning on booking a rental car, you can enjoy the Amalfi Coast scenic drive. Alternatively, if you prefer to let somebody else take the wheel, you can book your place with one of the local tour companies. There are a number of professional companies in Amalfi that will take you on some of the most beautiful adventures. Some might offer to pick you up from or near your hotel while others may have a regular meeting spot. Find out all the relevant information, including the language in which the tour is conducted, before making your reservation.