Breda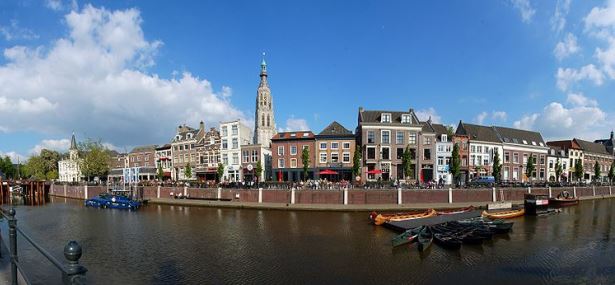 Hotels in Breda, The Netherlands
Compare hotel accommodation in Breda
The city of Breda is located in the southern part of the Netherlands and, due to its fortification, it was of major military and political importance. While the city has a fairy long history, it was not until 1252 that it obtained a municipal charter and thereafter had the right to construct fortifications. Construction began almost immediately in the form of brick walls and Roman-style gates. The city was eventually acquired, through marriage, by the Orange-Nassau family and this led to the influx of even more nobles and the increased prosperity of the area. Today, we can see the long-term effect of this improved status and the tourism industry is one of the main beneficiaries. The local B&Bs, hostels and hotels in Breda are constantly welcoming guests throughout the year. There are plenty of hotels in Breda and other types of accommodation in the city. You can literally take your pick of hotels, B&Bs and even hostel accommodation in Breda if you prefer.
Things to do in Breda
As for fun local activities, the Bakatelier is a great for the whole family. Here, you can sign up for workshops and learn some local baking secrets. The Mare Patisserie Chocolaterie is great for adults who want to learn how to make chocolate and for those who can't resist indulging in sweets and treats.
The Reptile House De Aarde is the very first zoo to have been established in Breda. Visitors are always happy with the high level of cleanliness and animal care. If you have young children, this is a great place for them to interact and learn about some of the world's most fascinating species. It is the kind of place where you can enjoy a few hours without spending too much of your travel budget.
Simply take a walk around Breda and you will notice architectural attractions like the Grote of Onze Lieve Vrouwekerk and De Kerkschat – Grote Kerk. Whether you view these sights from the outside only or manage to explore the interior as well, they are truly breathtaking and make for fantastic photo opportunities. Conduct extensive research on the city's most famous structures and you will be able to map them out and give yourself a tour instead of relying on an official guide.
Boat rides on the river are also a relaxing and popular activity so, if you save money on your hotel and meals, you should be able to enjoy a few extra pleasures.
You can literally find everything you want and need in Breda. From day spas and playgrounds to museums and casinos, there's certainly no risk of boredom here!