Corfu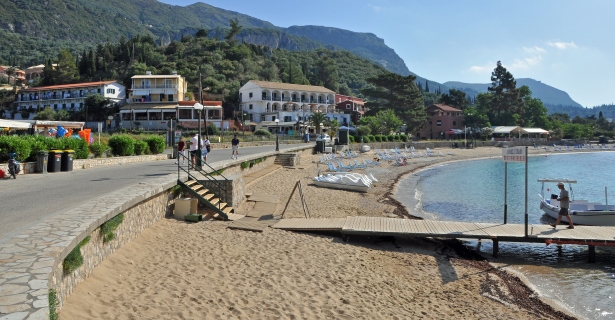 Hotels in Corfu, Greece
Since it is the second largest of the Ionian Islands, Corfu Island in Greece plays host to many tourists each year. The best hotels in Corfu, Greece are of the highest standard and the activities and sights in the area are what keep people come back for more. No matter how long you plan on staying on the island or what your budget may be, the accommodation in Corfu is wonderfully affordable and designed to cater for everyone. There is a great range of luxury resorts in Corfu, boutique hotels and fully self-contained serviced apartments in Corfu.
Fun for the whole family in Corfu
If you plan on travelling with the whole family, it won't be long and they will be begging to get outside and start exploring. Even the top luxury hotels in Corfu won't be able to contain their excitement.
Corfu Reptilla Roda is a wonderful place to take the kids for an up close reptile experience. There are snakes that can be held and other reptiles that don't mind being petted. It also proves to be a wonderful interactive learning opportunity for children and adults alike.
The Pyramid Adventure Park has a bit of everything for everyone. There is a restaurant with a spectacular ocean view and mini golf and karting facilities too.
The Corfu Aquarium is home to a wide variety of Mediterranean fish and reptiles. It's a fantastic place to visit and experience the local sea life.
A walk through the small village of Kassiopi is another wonderful scenic and learning experience. The village dates back to Roman times and offers many photo opportunities.
Corfu – Beautiful beaches and other sights
Paleokastritsa Beach is one of the most popular beaches on the island. It's perfect location and crystal clear waters attract many visitors and, for this reason, it can get a bit crowded at times.
Barbati Beach is a smaller beach and likely to be less crowded than Paleokastritsa. It's a lovely little spot to spend the entire day. Of course, if the kids are looking for more adventurous water fun, Aqualand will keep everyone cool and entertained for the day.
The road up Mount Pantokrator is sometimes considered a bit scary. Take a slow trip up the mountain and the views from the top will certainly be worth it.
Other popular places to visit in Corfu include Sissi's Palace (Achilleon), the Church of Saint Spiridon and the Old Fort (Paleo Frourio) to name but a few. With so much to see, it's important that you plan your trip carefully so that you can fit in as many of these fantastic Corfu sights and activities in as possible.
If you are trying to choose where to stay in Corfu, you will be happy to know that there is plenty of good accommodation in Corfu. The best hotels in Corfu, Greece are advertised online and an online booking is a great way of simplifying the reservation process and finding a great deal or a cheap hotel in Corfu.