Hanover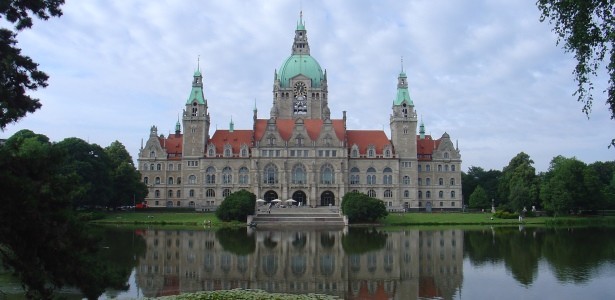 Hotels in Hanover, Germany
Book accommodation in Hanover online
Like most German cities during WWII, Hannover was at the receiving end of the Allied blitzkrieg that reduced much of its city center to ruins. But the medieval-like cityscape that sprung up in the aftermath of the war recalls to mind Hannover's glorious past when it supplied more than its fair share of Europe's monarchy, the last of whom sat at the British throne for more than 60 years in the person of Queen Victoria whose reign was marked with the expansion of the British Empire.
Hanover post World War II
Granted, there is not much of this old grandeur standing in the Altstadt or Old Town, but whatever reminders left make up for the huge loss suffered in the war: There is the residence facade of the mathematician and philosopher Leibniz; the half-timbered houses around Wood Market; the Kreuzkirche (Church of the Holy Cross); the Duvekapelle (family vault of the Duve family); the Leineschloss (modern day parliament building); the Marktkirche (church at the marketplace); and the Old Town Hall. All have been carefully restored using materials salvaged from the ruins. If you follow the "Red Thread" from your bed and breakfast in Hannover, Germany as it winds its way through the city for three miles, you will get most of the sights covered on foot or bicycle.
Hannover has plenty of leafy parks, and the most notable in its green space is the Herrenhausen Baroque Gardens which welcomed and entertained the nobility of the 17th and 18th centuries and, because of the history associated with it, kept largely in its original state. The Great Garden alone measures 50 hectares, and several other gardens that eventually became important in horticultural research provide refreshing backdrops to summer events like live and classical music concerts, theaters, cabarets and fireworks.
When and where to stay in Hanover
The best time to book your hotels in Hannover, Germany and take delight in all of its outdoor greenery is months ahead of the well-attended Maschseefest which takes place towards the end of July until the second week of August. The entire Maschsee Lake, 1.5 miles at its longest, is transformed into an open-air arena where all manners of artistic, musical and theatrical performances, and tent after tent of culinary delights, entertain a crowd of two million.
Any other time of the year, Lake Maschsee hosts international competitions in rowing, water-skiing, yachting and dragon-boating.
If you are partial to German brews, nothing beats getting your accommodation in Hannover, Germany reserved far ahead of the Oktoberfest to beat one million other visitors who come to the city and take part in the festivities. The same can be said of Hannover's spring festivals which attract an even greater number of tourists, and the more business and IT-oriented Hanover Fair and CeBIT which gathers the biggest names in the world of computers and biotechnology.