Hamburg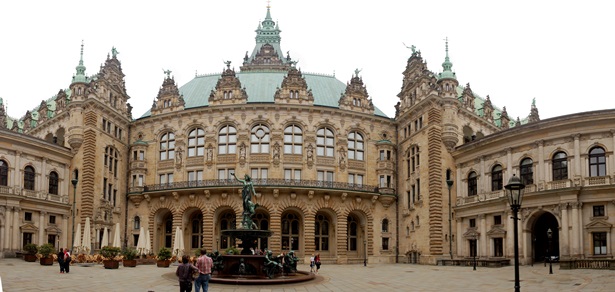 Hotels in Hamburg, Germany
Book accommodation in Hamburg online
Hamburg is the second largest German city and filled with a wide variety of things to do and see. There are a number of affordable hotels in Hamburg, Germany, bed and breakfast, hostels or apartments in Hamburg and other accommodation in Hamburg, Germany. Finding where to stay in Hamburg and the perfectly located best hotels in Hamburg for you is just the first step to planning your trip.
Fun places to visit in Hamburg
Miniatur Wunderland really lives up to its name and is one of the most popular places to visit in the city. It is the world's largest exhibit of model trains and the collection continues to grow. The whole family can enjoy watching these little trains run through the miniature city design.
Park Planten un Blomen (plants and flowers) is a lovely place to spend at least half a day. For families, this is the perfect spot to let the kids run around and use up some of that extra energy. With such features as fountains, a playground and a rink for ice skating or blading, you will be itching to get out of even the best hotels in Hamburg.
A trip to Aussenalster will allow you to get away from the busy city and enjoy some recreational paths suitable for the entire family. What could be better than some fresh air, light walking and plenty of photo opportunities?
If you enjoy boating, make sure that you visit Alster Lakes and don't forget to visit the local zoo which first opened back in 1863.
Hamburg landmarks and important structures
The Town Hall (Rathaus) is a spectacular sight. The first town hall was destroyed in 1842 in a terrible fire. It took about 44 years to rebuild and the current structure was inaugurated in 1897. The building did suffer damage during the Second World War but was since repaired to its former glory.
Church of St. Michael (Michaeliskirche) is one of the most well-known architectural landmarks in Hamburg. It was built in the 18th century and is a fascinating historical and religious site.
The Warehouse District (Speicherstadt) is also a lovely part of Hamburg to explore. It's like taking a step back in time as you pass by all the remarkable old buildings and submerge yourself in the history of this wonderful city.
For anyone with an interest in the shipping history of Hamburg, a visit to the International Maritime Museum is certainly in order. They have various ship models, artefacts, old uniforms and more on display for the public to get a close look at.
There are plenty of Hamburg hotel deals available for those trying to decide where to stay in Hamburg, Germany. If you want to make the most of some of the best promotions, book a bed and breakfast in Hamburg, hostel or cheap hotels in Hamburg online and secure your accommodation before continuing with your planning. The more you save on your accommodation, the more you will have to spend on all the fun activities.