Dusseldorf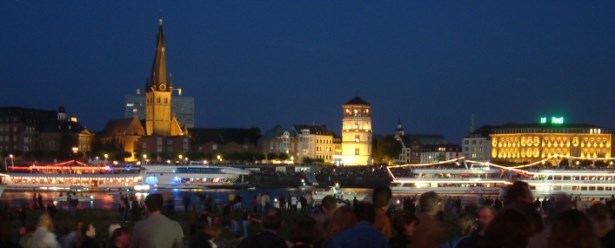 Hotels in Dusseldorf, Germany
Accommodation in Dusseldorf
Dusseldorf is well-known as an international business and finance centre. While many may visit this city for business purposes, the hotels in Dusseldorf are very well suited for all kinds of visitors and tourists. There is also a great choice of accommodation including bed and breakfast in Dusseldorf; as well as self-contained serviced apartments in Dusseldorf. There's no shortage of historical sights and activities in this area so planning where to stay in Dusseldorf is important for those trying to stick to a budget or plan the places they wish to visit.
Local Dusseldorf landmarks and points of interest
Every tourist and visitor to this city must take a walk through the Old Town (Altstadt). Enjoy a gentle stroll through the alleys and stop off at a restaurant or bar for some refreshments.
The Rhine Tower (Rheinturm) is the best way to get an aerial view of the city. There really is nothing quite like looking down from above and enjoying the view all the way to the distant horizon.
Rheinufer is a lovely path that can be enjoyed by foot, bike or even inline skates. Many visitors recommend an early morning or evening walk to avoid the crowds. The views are incredible so be prepared to take your time and resist the urge to rush.
Family activities in Dusseldorf, Germany
For many tourists, finding the right family activities is just as important as picking the perfect accommodation or hotel in Dusseldorf. Luckily, there are plenty of things to do for the whole family!
Kids have an abundance of energy and there is nothing better than to let them running around and tire themselves out. A trip to one of the beautiful local parks is the perfect place for parents to enjoy a relaxing picnic while the kids play. Wildpark Dusseldorf, Nordpark and Hofgarten are three of the most popular local parks.
The Loebbecke-Museum und Aquazoo is a great place to take the kids. The whole family will enjoy a superb up close encounter with some stunning fish and other sea creatures as well as some interesting information regarding the Earth's history.
The Neanderthal Museum has an interesting collection of relics left behind from the most ancient of times. This museum and the Kaiserpfalz Kaiserswerth ruins will prove quite the history lesson!
You will find a variety of accommodation in Dusseldorf including hostels, B&Bs and the best hotels in Dusseldorf old town and your choice will depend on your personal budget and needs. The apartments in Dusseldorf will offer more self-catering comfort for a long period of time. If you are specifically looking for cheap hotels in Dusseldorf, Germany the best thing to do is to run an online search. Compare the rates and facilities before making an online booking. That way when looking for a hotel in Dusseldorf you can save time, energy and, most important of all, money!