Nice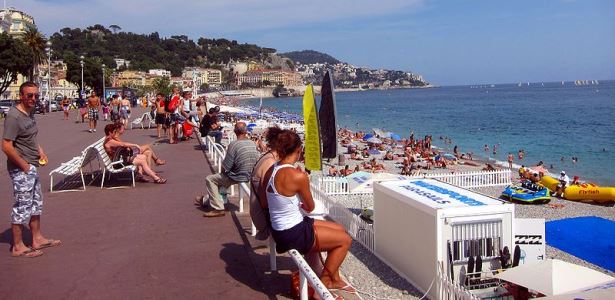 Where to Stay – Hotels in Nice, France
The city of Nice is the second-largest coastal city in France. Its location along the Mediterranean Sea greatly increases this city's popularity as a tourist destination. Many visitors flock to this particular part of France every year, the hotels in Nice and apartments, villas or bed and breakfast in Nice need to cater to a variety of preferences and budgets. Choosing the right hotel in Nice need not be a stressful chore, however. Simply compare various hotels in Nice France and select the one you feel suits you best. Run your search and make your booking online to secure a spot at either one of the cheap hotels in Nice or the more luxurious and decadent facilities if you prefer.
Enjoy some nature
The Promenade des Anglais is as popular among the locals as it is among tourists. Couples often enjoy a romantic stroll and dog owners take their four-legged friends for a walk here too. The views are amazing and you can stop off at the beach as you please.
Colline du Château is a wonderful park that the whole family can enjoy. There are a number of different types of plant life including pine trees, fig trees and aloe. The waterfall and play area for children, ruins and the maritime museum are all fantastic features that attract visitors to the park.
A walk to the lighthouse and jetty is a great way to escape the city and venture into more peaceful surroundings. Many people choose to do some fishing or sun tanning in this area provided the seas aren't kicking up too much of a fuss, of course.
A walk up Castle Hill does require a bit of effort but the unrivalled view of the city from up top is simply outstanding! Make the effort and snap some pictures to serve as your trophy for making it to the top!
Places to visit near Nice in France
While the accommodation in Nice, France serve the purpose of providing with some of the comforts of home, you won't be spending much time in them once you see what this city has to offer! In fact, that's why so many backpackers, single travellers and even couples choose hostels in Nice. They save money on their accommodation and spend it on some more memorable experiences.
Many visitors to this area enjoy the tranquillity of the Cimiez Convent (Monastere de Cimiez). The architecture has stood the test of time and the gardens offer a peaceful sanctuary to anyone in need of some relaxation. Pack a picnic basket and enjoy a refreshing lunch before heading back.
There are plenty of beautiful structures to see in the Massena and Garibaldi Plazas. These two places also make great reference points when taking or giving directions. You will get a true feel for Nice simply by passing through and enjoying a light meal or some drinks at one of the local establishments.
The Palais Lascaris was built back in the 17th century and is a fantastic historical building to visit. It has been turned into a museum of musical instruments with more than 500 pieces on display.
There are simply so many sites to see in Nice and don't forget to try some of their delicious foods and wines every chance you get! The French are known for their culinary and wine making expertise so one simply must indulge in the flavour of their culture. Book online to find where to stay in Nice and find a good deal, the best hotels in Nice, an apartment or villa, or cheap accommodation in Nice, France