Lille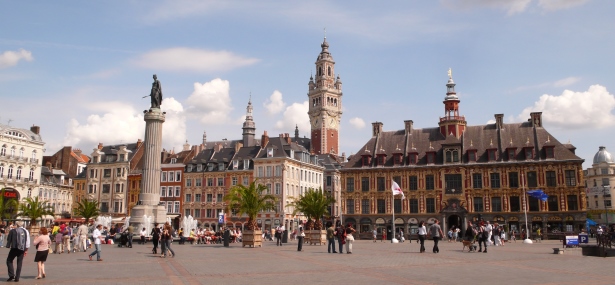 Hotels in Lille, France
Where to Stay in Lille
Lille is the largest city in French Flanders and the fourth-largest metropolitan area in the country. The city's history can be traced back as far as 2000BC and there are a number of buildings of architectural importance as well as various landmarks and points of interest throughout the city. The different types of accommodation in Lille vary from fancy, luxurious hotels and apartments to low cost options like hostels.
Top sights and attractions in Lille
One of the first places that tourists visit when in Lille is the Grande Place. The style of the buildings and the magnificent statues make you feel as though you have been transported back in time and, with so much to see, you can be sure that there are plenty of photo opportunities in this area too.
The Old Stock Exchange building is another fine historic building and was designed in 1653. The style in which it has been built is known as Flemish baroque and it really stands out among the surrounding buildings.
The Beffroi de Lille is another popular attraction and visitors can choose to make their way up the tower by climbing the stairs or by elevator.
The Opera de Lille is located near the Grand Place and, even if you are just passing by, it is worth stopping and taking a closer look at the superb carvings that make this building so beautiful and unique.
Other interesting things to do in Lille
A fun activity, especially for those travelling with children, is a visit to the local zoo (Parc de Zoologique). The zoo is surrounded by a large park and can make for a fantastic family friendly day out.
La Citadelle is another great place to visit if you would like to enjoy a walk in the park and a more relaxing day out. Pack a picnic basket and take your time making your way back to your hotel room.
If you want some local expertise regarding the best sights, attractions and places to visit, make your way to the Lille Tourist Office. This is a great help for anyone who has not done extensive research and trip planning online prior to their departure.
For those with a keen interest in architecture and / or sites of religious importance, a trip to Notre Dame de la Treille is a must. This giant cathedral is as amazing on the inside as it is from the outside and is certainly worth including in your itinerary.
Apart from all of these great sights, there are also a number of places to visit if you seek a deeper insight into the local culture and history. The Musee d'Art Moderne, Palais des Beaux Arts, Museum of Natural History and Le Musee de la Maison Natale de Charles de Gaulle are all great places to visit and it is particularly handy to have some indoor activities planned just in case you experience some rainy days.