Brittany Hotel Accommodation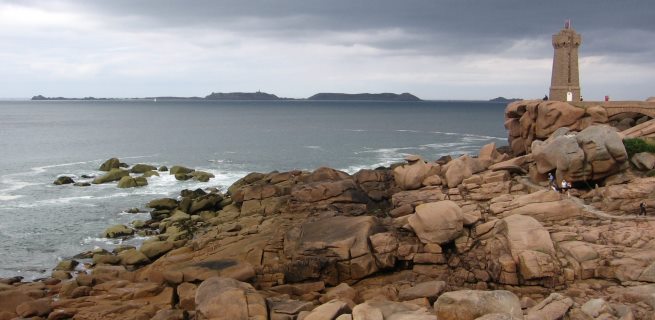 Hotels in Brittany, France
Book bed & breakfast or hotel accommodation in Brittany
Brittany is considered as one of the six Celtic nations and is also often referred to as "Little Britain". It is located in the north-west of France and enjoys moderate weather conditions with regular rainfall and a fair number of sunny days during the summer. Between the maritime climate, scenic nature areas and historic structures, Brittany really does have everything to offer its guests in terms of fun, sights and with affordable hotel, motel and bed and breakfast accommodation in Brittany.
Fascinating landmarks throughout Brittany
Whether you visit Perros-Guirec, Saint-Malo or Plougonvelin, you will find no shortage when it comes to landmarks and points of interest. The Pointe Saint Mathieu is visited by those who want to enjoy the fabulous view and get a look at the local lighthouse. There's nothing more peaceful and mesmerising than staring out over the cliff edge at the wild waters and watching as they crash up against the rock face below. Pointe du Raz in Plogoff is another lovely point to visit if you enjoy looking out over the sea while keeping your feet firmly on solid ground.
If you book hotel accommodation in Brittany, the classic medieval town of Rochefort-en-terre and the Centre Historique de Vannes are ideal for really experiencing the history of the area. The old buildings and surroundings give you that authentic village feel and can almost transport you back in time. While in Vannes, take special note of the Place Henri IV, the 16th century buildings and local museums in the area as well.
Explore the outdoors in Brittany, France
The Cote de Granit Rose in Cotes-d'Armor are famous geological formations that attract many curious visitors every year. While the size of these formations is quite amazing, it's actually their unusual colour that has people talking.
There are a number of pleasant islands located off the coast of France. If you visit Roscoff, for example, you can take a day trip out to Ile de Batz. From Cotes-d'Armor, you can visit Ile de Brehat and if you are in Morlaix, you should definitely make your way to the Chateau du Taureau.
A day at the beach is another great way to pass the time outdoors. No matter which part of Brittany you visit, a trip to one of the nearby beaches should definitely be on your list of things to do. Plage du Sillon, Saint-Malo and St Jacut Beaches, Saint-Jacut-de-la-Mer are just two of the top choices in this area. If you have your trip planned out and book your guest house, bed and breakfast accommodation or hotels in Brittany, you know exactly which towns and cities in Brittany you are going to visit, then you can easily look up all the best beaches in your area or simply ask the locals for their advice!
Thanks to the surrounding sea, the area also has an abundance of fresh seafood ready for you to enjoy. Mussels and oysters are a big local favourite and they pair up perfectly with some of the local wines too. Instead of ordering the same thing you would back home, try something new by ordering traditional dishes when in Brittany.