Biarritz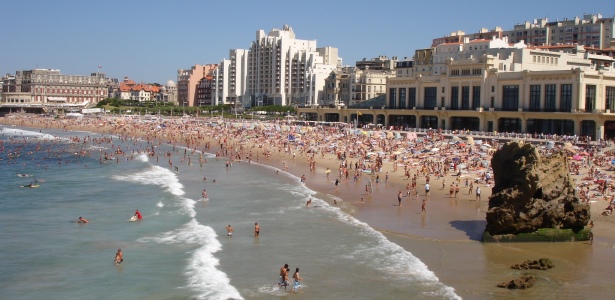 Hotels in Biarritz, France
Book accommodation in Biarritz
The French town of Biarritz is located on the Atlantic coast in the Bay of Biscay, and is an extremely popular destination for tourists and surfers. In history, and still today, it is the sea and ocean air that proves to be the town's main attraction. While locals may have made their money from industries like whaling in the past, today, we can see a flourishing tourism industry and plenty of top class hotels in Biarritz always welcoming new guests. The accommodation in Biarritz ranges from single star hotels at a very reasonable rate to luxurious apartments on the beach.
Top Biarritz activities
No matter where you decide to stay in Biarritz, the beach will always be a prominent feature during your trip. You could specifically look for beach resorts in Biarritz but, if your budget does not allow for such accommodation, there are plenty of open beaches. Of which, Cote des Basques is by far the number one choice for locals and tourists alike.
A trip up to Phare De Biarritz will get you a close up look at the lighthouse and you will be able to enjoy some of the most amazing ocean views. The walk up the stairs will require some effort and, if you get tired easily, then you should definitely make this an early morning or late afternoon trip to avoid the midday sun.
If the heat gets too much for you or there is a sudden downpour that forces you to remain indoors, then a trip to the Musee de la Mer de Biarritz is just what you need to pass the time while still having fun and getting out of your hotel. Not only is this aquarium great for kids but adults can get just as much out of the experience too.
Interesting Biarritz sights
The Virgin on the Rock monument is probably one of the most prominent statues in the area. The promenade walk and getting to see this amazing statue is always a memorable experience.
There are a number of museums to visit as well. No matter what your preferences and interests are, you are sure to find at least one museum in Biarritz that will leave you feeling captivated and inspired. It's also a great way to pass the time if the weather doesn't allow for outdoor activities. Some of the most popular museums include Asiatica Musee d'Art Oriental, the Musee Historique de Biarritz and the Planete Musee du Chocolat Biarritz.
Apart from all of these fun and educational attractions in Biarritz, there are also a number of sites of religious importance. These include the Russian Orthodox Church – Eglise Alexandre Newsky and the St Martin's Church. Not only are these sites of religious significance but they also give visitors a greater insight into the local history and culture.