Zadar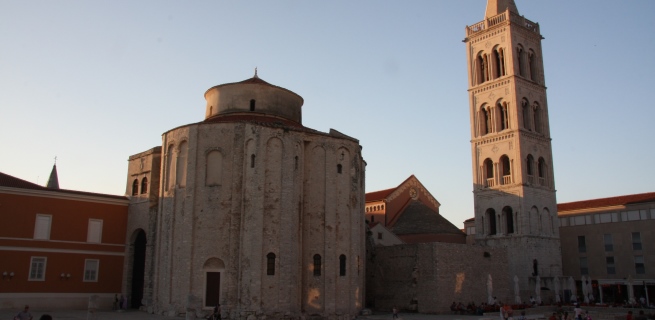 Hotels in Zadar, Croatia
Compare hotel accommodation in Zadar online
The Croatian city of Zadar is located on the Adriatic Sea and it has a history that exceeds 2,000 years. Between the fascinating ancient architecture and superb natural features, this city manages to attract a substantial amount of tourists each year. Although the local tourism industry only really began to boom in the 70s, it has certainly managed to make up for lost time and the hundreds of hotels, rental apartments and other types of accommodation in Zadar are always welcoming new visitors.
What to do in Zadar
When planning any holiday, your first priority will be to find the best hotel deals and affordable flights. You might also be interested in booking a rental car depending on your budget and personal needs. Next up on your list of things to do will be to find out more about the top attractions and Zadar will certainly not let you down in that department!
A popular activity among visitors and locals alike is a relaxing stroll along the Organo Marino. Take a seat and hear the sound of the famous Sea Organ. The sound that the water makes as it flows in and out is truly unique and extremely mesmerising. If you are tired from your travels, this is probably the best activity to enjoy on your first day as you are adjusting to your surroundings.
If you stick around long enough and wait for dark, you can make your way to the nearby Greeting of the Sun feature. This feature pays homage to our solar system through a floor display. Since it is so close to the Sea Organ, you can still enjoy the melodic sounds as you explore this feature.
The Zadar City Gate is an excellent sight in itself. It also marks the old town and you will notice several old structures in this area. The old town area is somewhat smaller than that of many other cities which only means that you can take a nice relaxing walk without having to rush through in order to explore every inch.
As you walk through the city, you cannot help but make your way to the main square. This is one of the busiest areas and the atmosphere is positively infectious! Take a look around and take note of such features and the City Sentinel.
Other top Zadar attractions
When on holiday in Zadar, the best thing to do is spend as much time as possible out and about. To make the most of your visit, keep the amount of time you spend in your hotel to a minimum. Even if your hotel in Zadar has a full restaurant and bar, there's no reason not to explore what other restaurants have on the menu. Visiting outside bars, clubs and lounges will also give you the opportunity to mingle with the locals and really get a feel for their way of life. Many locals speak English fairly well so you should have no trouble communicating either.
Due to the ever growing tourism industry, you can expect to find a number of souvenir shops throughout the city – particularly near the top attractions. If the weather is not suitable for outdoor activities, you could always spend a few hours at the Shopping Center Supernova. This mall has just about everything you could possibly need! There's a supermarket, food court and plenty of shops waiting for you inside.
Another great way of passing the time on a rainy day is by visiting any one of the various museums in the city. The local Archaeological Museum and the Zadar City Museum are two favourites due to the fascinating displays they hold.
Depending on your abilities, preferences and the ages and abilities of your fellow travellers, you can also choose from several professional tour operators. Take your pick from boat trips, kayaking fun, biking adventures and so much more!