Pattaya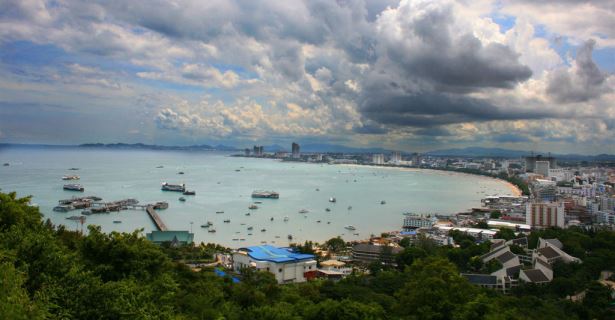 Hotels in Pattaya Beach, Thailand
Pattaya is the second most visited city in Thailand after the capital, Bangkok. Everything you could find in the Thai capital – Buddhist 'wats', exotic street food, blinding neon lights, an ocean of signage and legions of backpackers – is here with the pleasant addition of the Gulf of Thailand by the side. Pattaya's proximity to water paved the way for tourism boom, and makes it one of the most popular beach getaways in Thailand since Vietnam War G.I. soldiers first built a private bungalow by its shores for rest and recreation.
Where to stay in Pattaya, Thailand
Pattaya has grown exponentially since the early 1960s. The beach is understandably its biggest draw; it's a veritable playground for all sedate and adrenaline-fuelled fun – diving, jet-skiing, kite- and wind-surfing, riding the banana boat and sailing into the sunset are just some of the popular activities offshore. Along the 3 kilometre Pattaya Beach is a different brand of action; the shore is filled with hundreds of bars, restaurants, cafes, rental shops and hotels in Pattaya Thailand, and hordes of locals on weekend jaunts.
A broad range of cheap hotels in Pattaya Beach and other mid-range options can be found in Central Pattaya while both the north and south sections of the beach are home to a huge number of the best beach resorts in Pattaya. As these areas comprise the central district, it can often get overwhelming. Escape to Wong Phrachan Beach for some solitary time in the water and on the sands. At Chonburi stay at the Pattaya garden hotel with modern bungalow style accommodation around the pool. If you have a bit of German and wish to take in the scenery without the tireless peddlers, Naklua to the north of North Pattaya comes highly recommended.
Accommodation in Pattaya Beach
Colourful and religious places To experience
Pattaya has earned quite a reputation as the center of everything hedonistic in Thailand. Despite serious efforts by authorities to clean up its image, older Western men and young Thai women holding hand in hand are still a very common sight, especially along the neon-lit Walking Street where massage parlors and go-go bars are found.
If this is not for you, book a Pattaya beach resort room in Jomtien Beach to the south which caters more to couples and families who want to have some quiet and alone time. The beach area is home to an amusement park, and also has a number of serviced apartments in Pattaya Beach for long-term stays.
Pattaya is unique in Southeast Asia; it is the go-to destination of LGBT tourists because of its open embrace of 'katoeys' (lady boys). The more daring tourist may want to get adventurous and find out all the hype about go-go bars, but not without bringing a healthy sense of caution.
Among establishments dedicated to material pleasures you can find Pattaya's religious gems. Luang Phor Yai, which contains the enormous statue of Buddha, overlooks the activities below from atop a hill aptly named Buddha Hill. From here, Wat Khao Phra Bat is a short trek; climb this other hill and be rewarded with sweeping views of Pattaya Bay and dramatic sunsets.
Book online and find where to stay in Pattaya Beach and book the best hotels in Pattaya Beach and score cost-saving Pattaya hotel deals at a Pattaya beach hotel, then splurge the difference on spicy Thai cuisine. You can find the most popular open-air eateries at Thep Prasit Night Market where you can also indulge your inner shopaholic.