Jakarta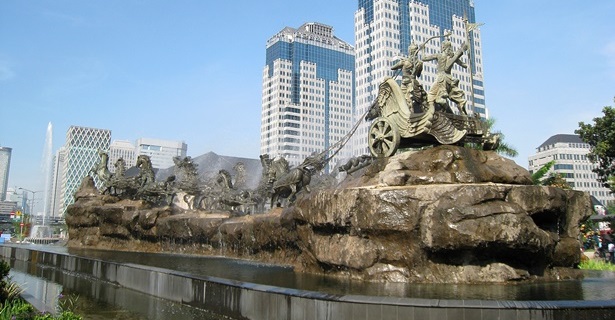 Hotels in Jakarta, Indonesia
Historically the "spicy" trading hub of the Dutch East Indies Company, "Batavia" today is the capital and largest city of 17,000-island-strong Indonesia and, at 28 million residents, the most populous metropolitan area in Southeast Asia. "Jayakarta" was shortened to its present name when the Japanese took over the city during WWII. Locals, however, are still referred to as "Betawi" in keeping with Jakarta's Dutch heritage.
Where to stay in Jakarta
Jakarta's land area is not nearly so vast: at less than 750 square kilometers, the core of the city can be manageable if not for the massive flow of humanity per square kilometre. Start at the administrative and financial core of the capital in central Jakarta marked by the spire of Monumen Nasional (National Monument) in the middle of the world's second largest "Freedom Square," Lapangan Merdeka. A kilometre south of MoNas is Jalan Jaksa, Indonesia's equivalent of Thailand's backpacker hub Khao San Road. Cheap hotels in Jakarta, Indonesia jostle for space in this 400-metre road west of the Gondangdia train station.
Jakarta's colonial past is most visible in Kota Tua to the north. Plenty of mid-range hotels in Jakarta can be found here, along with a handful of amusement and kid-friendly water parks. Fresh seafood is served daily in restaurants along Ancol Bayfront; hawker food and local crafts line the streets dotted with a few surviving Dutch-era buildings. Early morning ferry to the Thousand Islands – which are actually 110 islands – departs daily from Muara Karang Port.
Indulge in cosmopolitan shopping and dining in Jakarta's south where the city's upper crust lives. Consequently, this is also where you can find the best hotels in Jakarta, Indonesia and equally high-end entertainment establishments favored by the high society and expatriates alike. Sparkling boutiques and fine dining options line the streets of Kemang.
An introduction to Jakarta, Indonesia
The eastern district of the capital is mostly industrial and populated with a smattering of museums and accommodation in Jakarta, but Taman Mini Indonesia Indah does an excellent job of condensing Indonesia's 300 distinct cultures and more than 17,000 islands in 250 acres. Inside the park are a series of pavilions and museums that depict the archipelago's traditions, architecture, clothing and the arts, and introduces the visitor to Indonesia's 30 provinces for a nominal fee.
Jakarta is part of the larger conurbation named "Jabotabek" which consists of four other satellite cities namely Bogor, Tangerang, Bekasi and Depok. Largely because of Soekarno Hatta International Airport where most international travelers get into Indonesia, 5 star hotels in Jakarta can be found on the way out of the airport in Tangerang and into the city centre.
To escape Jakarta's oppressive air, help yourself to a dose of green at Bogor's century-old botanical gardens (originally the private gardens of Singapore founder Stamford Raffles) and manicured golf courses. The rest of the satellite cities are mainly industrial and centres of higher learning, but you can use Bekasi as a staging point for a jaunt to Bandung's surplus shopping district less than two hours to the east, or to Borobudur, the world's largest Buddhist complex, in Yogyakarta about a day's trip both ways. Book online to find where to stay in Jakarta, and find a good Jakarta hotel deal.