Bandung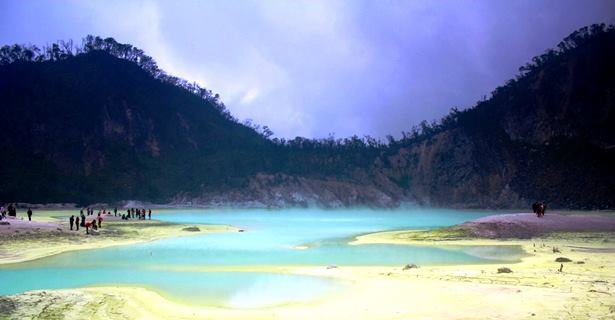 Hotels in Bandung, Indonesia
Bandung is Indonesia's second largest metropolitan area after Jakarta, and once enjoyed the distinction of being the "Paris of Java." Although Bandung has grown to become less of a paradisiacal retreat and more of a manufacturing and educational hub today, its elevation at more than 2,500 feet above sea level, tea plantations, cool climate and abundance of highland resorts in Bandung still make it a favorite weekend getaway of city dwellers.
Shopping & sight-seeing from accommodation in Bandung
Despite Bandung's tumultuous past – it was razed to the ground during WWII – it has recovered and grew in leaps and bounds after Indonesia declared independence in 1945. The few tropical Art Deco architecture that survived, some of which have been converted into accommodation in Bandung, are all there is to mark Bandung's Dutch legacy.
Some of the finest restaurants and the best hotels in Bandung, Indonesia are found in the colonial district of Dago, otherwise populated with factory outlets and young people drinking and partying loudly on weekends, due in large part to its proximity to universities. Jalan Asia Afrika, which has also a smattering of Dutch-era architecture, is home to some of the premier accommodations of the city like Golden Flower Hotel Bandung. Today, the once favored residence and business district of the colonial-era upper crust is undergoing gentrification.
Bandung has a sizable garments and textiles industry, and surplus export-quality produce called "sisa" often find their way in factory outlets on the street along "Jeans" Street within close distance to bus terminals and budget rooms in Bandung. A more artistic and local take on garments production can be found on indie "distro" in the same district of Cihampelas. The savings that can be had are significant; not uncommonly, many people fly from Singapore or Kuala Lumpur over the weekend just to shop.
Where to stay in Bandung to enjoy the view
Bandung grew out of a river basin surrounded by volcanic mountains once thickly canopied with rainforests. The native vegetation has given way to tea plantations when the Dutch arrived, and the highlands have yielded to development of real estate and luxury villas. Padma Hotel Bandung sits on a hill and is surrounded by these lush landscapes with the misty Parahyangan Mountains in the horizon. Other 5 star hotels in Bandung are also found on hilly and cooler districts like Upper Dago.
Bandung's university population – more than 50 colleges are located in the city – combined with the abundance of cheap hotels in Bandung, hard-to-beat shopping scene and pleasant mountain air, has made it the Betawis' (residents of Jakarta) favorite weekend escape.
On top of those big-city conveniences, the geography that defines Bandung in Indonesia is no more than 50 kilometres away in either direction. The volcanic crater, hot water springs and boiling mud of Tangkuban Perahu is only 30 kilometers north. Patenggang Lake and the tea plantations that surround it are about 50 kilometres southwest. Nearby is the crater lake of Kawah Putih (White Crater) which mesmerizes visitors by changing colors from whitish to greenish to bluish to brownish depending on its sulfur content.