Indonesia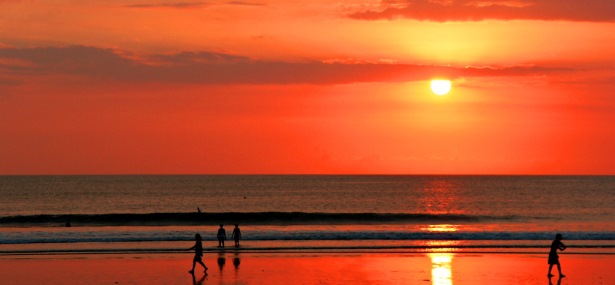 Where to Stay in Indonesia
Regardless of your age or interests, Indonesia is a perfect holiday destination for everyone. If you just want to escape the rat-race and relax on a deserted beach, Indonesia is for you. If you love an adrenalin-charged holiday full of adventure sports, again, Indonesia is for you. If you love culture and history…need I say it…Indonesia is for you too! Where else can you dive some of the best dive sites in the world, catch the perfect wave, visit with dragons and orang-utans and hike up an active volcano? Indonesia houses some of Asia's largest wildlife sanctuaries and its' islands showcase some of the best beaches in the world; on top of this, there are tropical rainforests, rice terraces and the country has a rich and interesting heritage and wonderful food. What are you waiting for? Book your Indonesia beach resorts online now, find where to stay in Indonesia and let the adventure begin.
Best places to stay in Indonesia
The enormous diversity of Indonesia can make holiday planning difficult – where to start? Perhaps the ancient capitol of Yogyakarta is a good place to start for some cultural insight and to see the amazing Buddist and Hindu temples. Here you will find some of the best hotels in Indonesia to choose from, with something to suit all budgets. The Phoenix Hotel is a good luxury option, while budget travellers can try the Edu Hostel. To escape the city, try the Omkara Mountain Retreat, one of the best resorts in Indonesia.
Sun, Sea and Beach Holidays are very popular with visitors to Indonesia. Bali's most famous resort is Kuta, (great for surfing!) where tourists go for a good beach, great shopping and nightlife. Some of the best beach resorts in Indonesia are found around Kuta; have a look at Holiday Inn Resort Baruna Bali and the Ramada Bintang Bali Resort. A few of the cheaper Indonesia beach resorts in Bali you can try are the Kuta Seaview Boutique Resort, the Risata Bali Resort and the Green Garden Beach Resort.
Lombok lies just east of Bali and has a completely different atmosphere – wide open places and a lot less bustle. Here is where you can hike up Gunung Rinjani, an active volcano, or just enjoy the unspoilt beaches. Just browse online for beach resort accommodation in Indonesia on Lombok or the Gili Islands to book your place in the sun.
Sulawesi Island is the place to go for snorkelling and diving and is home to several of the best dive-sites in the world. Keen divers must visit Bunaken National Marine Park to try one of more than 30 stunning sites that offer more enormously diverse marine life. Manado is the closest town to Bunaken and you can find several Indonesian hotels and resorts near Manado to use as your base.