Udaipur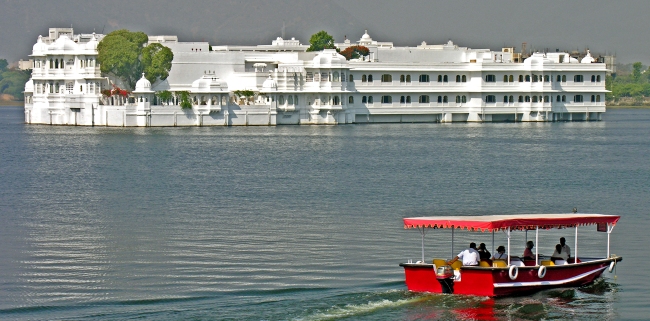 Hotels in Udaipur, India
"The Venice of the East" can easily be Anglicized to "to die for." Bordered by mountains, carved with lakes, and generously sprinkled with palaces, temples, gardens and reminders of its royalty past, Udaipur, once the stronghold of a Rajput or native prince, is easily India's most romantic city, a far cry from the India portrayed in mainstream media.
Where to Stay in Udaipur
In most of India, the monsoons dampen the tourist trade; not so in Udaipur whose tourist flow is largely shaped by lakes at their most picturesque when refilled with rainwater. The most beautiful of these man-made lakes is the 14th century Lake Pichola where the Taj Lake Palace Udaipur rises out of Jag Nigwas Island on its east bank. From here to Fateh Sagar Lake to the north, a dozen 5 star hotels in Udaipur.
While within walking distance of Lake Pichola, you may want to see how the royalty of the day lived in the granite-and-marble City Palace which overlooks the city and the lakes. To get a more dramatic view, hike up to a hilltop and take it all in from the Monsoon Palace, one of the must-see places to visit in Udaipur along with the many palaces that have now been converted to some of the best hotels in Udaipur.
From the lakes to the east up to the central business district can be found a concentration of 3 star hotels in Udaipur, India. The area from the lakes to the core city would bring you within walking distance to the many Hindu temples and Indo-Aryan palaces that Udaipur is known for. But if you yearn for ultimate pampering, peace and quiet, when looking for where to stay in Udaipur; you may want to consider staying in lakeside resorts in Udaipur that are removed from the flow of tourists, but not so removed that you are far from comforts and convenience.
Things To Do in Udaipur
With its many ancient temples, Udaipur is a Hindu's pilgrimage site. Coupled with its Rajput-era palaces and a plethora of luxurious and budget hotels in Udaipur, many locals come to propose, tie the knot, or celebrate their honeymoons; not a few come to rekindle romance.
Those who grew up with Mowgli and his jungle friends make the trip to "Oodeypore" to come face to face with the birthplace of Bagheera, the fictional panther in Rudyard Kipling's "The Jungle Book." Fans of 007 come to the Lake and Monsoon Palaces to relive scenes in "Octopussy." If you want to see stars of the heavenly variety, don't skip Udaipur's Solar Observatory. It also wouldn't hurt to dip your toe into one of the city's many "ghats" where people, of either sex, bathe together and, unlike the Japanese "sento," with clothes on.