Jaipur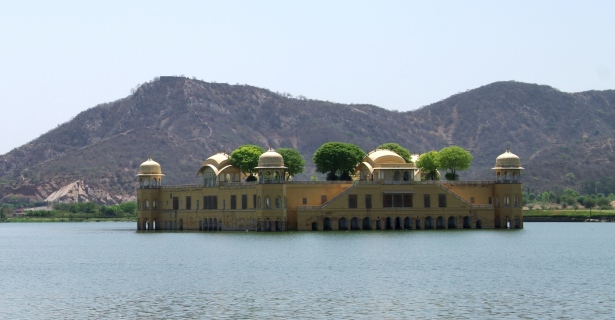 Hotels in Jaipur, India
Jaipur is India's answer to Jordan's Red City of Petra, albeit on a humbler scale. Known as the "Pink City of India," Jaipur, the capital of the Indian desert state Rajasthan, is nonetheless filled with palaces, temples, monuments, forts and gardens that were planned from the very start. Today, the wide boulevards and the grid pattern of the city core offer a refreshing contrast to India's typically portrayed crowded and narrow streets. But lest you think that it is all just space and rose-colored architecture, Jaipur is alive with eye-catching saris billowing in the wind, oxcarts kicking up dust and elbowing their way to the market, and busloads of tourists making their way to major tourist spots and top hotels in Jaipur, India.
From palaces to 5 star hotels in Jaipur
Jaipur lives up to its 'coloured' reputation. The City Palace, which was once the seat of the Maharaja or native royalty is a sumptuous carnation complex filled with courtyards, gardens and 18th century buildings. The Palace of the Winds or Hawa Mahal is that red sandstone five-story building overlooking the streets and looks postcard-worthy every time. Its more than 900 windows which overlook the streets below allowed the royal ladies or Maharani to observe the goings-on without being seen themselves.
You wouldn't want to miss out on Jal Mahal, an ethereal vision that rises right out of Man Sagar Lake. Taj Rambagh five miles outside the city walls is a former residence of a Maharaja and now one of the luxury hotels in Jaipur favored by celebrities and sports stars. Not incidentally, it ranks as one of the best in the world. Throw in the pleasantly pastel yellow Amber Fort and verdant gardens in your itinerary for some multi-colour. At night, Rajasthan's Legislative Assembly Building sparkles with lights, befitting a city known for its jewels.
A sensory overload of Souks, Snake Charmers and Saris
You can stay in the best hotels in Jaipur, India; or one of the budget hostels in Jaipur and splurge what you save to get that maharani look; it won't cost a million rupees. Browse the souks for tiger eye, lapiz, turquoise and native ruby star. Just be aware that there are gem scams going on, so it pays to buy only from established dealers and not from touts promising sparkling jewellery for unbelievably low prices. Or scour the bazaars for saris, "rajais," a cotton-stuffed quilt with velvety finish, or "jootis" which are colourful and light footwear similar to ballet flats.
The souks and bazaars that are often a few doors down apartments in Jaipur are a feast for the senses – every human drama about India portrayed by mainstream media is played out here. Do be careful around wicker baskets – dancing cobras have a habit of emerging from them when coaxed by snake-charmers!
Figure out early where to stay in Jaipur. It has a well-attended literary festival, plenty of gem workshops and cooking schools that attract eager students. Plus, it receives transit tourists on their onward journey to the "Golden City" of Jaisalmer and the "Blue City" of Jodhpur. The best resorts in Jaipur fill up early from November to February, and you would want a well-furnished accommodation in Jaipur once you arrive to fend off the occasional cold wave.