Windhoek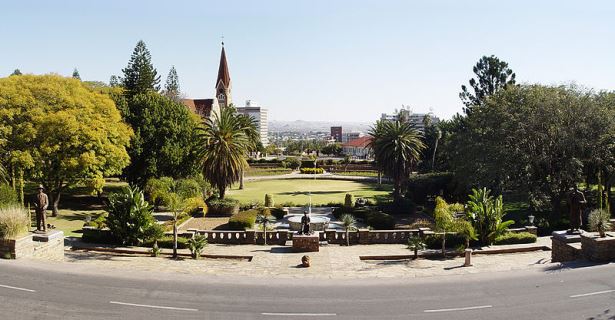 Hotels in Windhoek, Namibia
Windhoek is the gateway to wonderful Namibia, and whether you are visiting the city on business, for an adventure holiday or en-route to the wonderful Game Reserves along the northern border of Namibia, you should spend a couple of nights seeing what Windhoek has to offer.
There are several options for self catering accommodation in Windhoek and you are sure to find something to suit your tastes and budget. If you prefer to self-cater, you may be interested in a guest farm in Windhoek which offers self-catering cottages with kitchens, such as the Etango Ranch Guest Farm which is just 10 min drive from the city centre.
Most of the hotels in Windhoek are either 3 or 4 star establishments in the popular mid-range price category, and there is also a good selection of guesthouses in Windhoek for you to choose from.
Luxury places to stay in Windhoek
Since most people tend to just pass through Windhoek on their way to one or other of the main Namibian attractions, there are only two 5-star options for accommodation in Windhoek, the Windhoek Hilton Hotel and the [email protected] Bello Guesthouse, both of which provide elegant and comfortable accommodation with all the little luxury touches you would expect from 5-star graded hotels
4-Star Windhoek Hotels, Resorts and Guesthouses
This is probably the most popular category of hotels in Windhoek and there is a good selection to choose from. Two of the most highly recommended guesthouses are the Villa Morenga Guesthouse and the Hochland Nest guesthouse, while those who prefer a hotel atmosphere should consider the Safari Court Hotel, the Windhoek Country Club Resort or the Kalahari Sands Hotel and Casino.
Cheap guesthouses and hotels in Windhoek
For travellers on a strict budget or back-packers there are quite a few suitable places to rent in Windhoek which will not break the bank. Consider the Arebbusch Travel Lodge, Leopard Lodge, Hotel Pension Etambi or the really inexpensive The Cardboard Box or Seventh Heaven Guesthouse, both of which have a pool to cool down in – a very important consideration if your are visiting during the hot Namibian summer.
Booking your accommodation in Windhoek is quick and easy; just browse our online listings and choose where to stay in Windhoek and find the best hotel in Windhoek, bed and breakfast or cheap accommodation in Windhoek, Namibia at the right price.